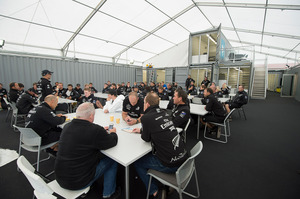 Emirates Team New Zealand's arrival on the waters of San Francisco Bay cannot come a moment too soon. They may need to demonstrate how to sail the giant AC72 catamaran safely and at speed to take the edge off the winds now blowing across the bows of the America's Cup.
Team NZ were due to begin training on their giant AC72 catamaran on Thursday.
However, a committee formed by organisers to review Swedish challenger Artemis Racing's fatal accident has now asked the teams to suspend sailing the 72ft America's Cup catamarans and the smaller AC45s until the middle of this week. The committee was due to meet the teams overnight and organisers hope to have its recommendations in about two weeks.
Among other factors, investigators will look at the structure of Artemis' Big Red yacht, which regatta director Iain Murray has said differed significantly from those of other competitors.
As alluded to in the New Zealand Herald this week, there are fears that sailing times could be altered and allowable wind speeds dropped to factor in a new safety element.
For Team NZ, that would be a bad result. They have proven time and again, in their sailing in the Hauraki Gulf, that they can pilot their AC72 quickly - the quickest of all the challengers - although holders Oracle have made large strides since they capsized their first boat.
Team NZ have done so safely; they have consistently been the best foiling team and have demonstrated the most difficult element of foiling - consistency.
They once even rocketed home to base on the highly vigorous winds of an approaching cyclone, proving their boat could handle extreme winds. Restrictions to sailing times when gentler winds are expected and cutting the maximum allowable wind speed would reduce the advantage Team NZ have built up.
But Andrew Simpson's death and the review of safety could change all that.
Hence why some experts say the best thing Team NZ can do now is to demonstrate they can do on San Francisco waters what they have been doing in Auckland.
"It's essential for them to get on the water and show what they can do," said one, who preferred to remain anonymous. "That's the best way to head off any moves to cut things back. They can show that it is possible to have a design that means these things can be sailed safely."
Team NZ's stability when racing is understood to be based on their hulls. Experts say their hulls are bigger and do not dig in and burrow under waves in the way that Oracle and Artemis did in their capsizes. One argument is that it is not too late to allow hull changes to bring others in line with Team NZ.
However, whether that suits other teams is another matter. America's Cup observers say changes like that would mean time off the water for teams - and extra cost (for Oracle and Artemis; Luna Rossa have the same basic hull shapes as Team NZ after their design-sharing arrangement).
In theory, moves to cut allowable wind speeds would require a majority decision (not unanimous, as reported). With Luna Rossa sharing Team NZ's design, the two "NZ-based" designs would seem to have a stalemate against Artemis and, possibly, holders Oracle.
However, there are whispers that the Italians might be wavering when it comes to wind speeds. They have a generation-one boat; they are not building a second to race in San Francisco (as Artemis, Oracle and Team NZ are).
The Luna Rossa boat was given a bit of a hiding when it matched up against Team NZ in impromptu trials in Auckland - and it may be that the Italians figure they will do better in light airs. So may Oracle, who many experts believe have configured their catamaran for the traditionally lighter airs of September - whereas the challengers have to battle through the stronger winds of July and August to win the right to meet Oracle in the America's Cup match.
That would mean Team NZ could be out-voted.
Add to that the fact that no one yet knows what Artemis are is doing. The first indications were that the stricken Swedish syndicate was picking itself up after the horror of Simpson's death and would compete.
However, the Herald on Sunday understands that some and maybe many of the Artemis sailors were unwilling to return on deck on an AC72; withdrawal is still a possibility. However, even if that is true, Artemis may be under considerable pressure not to do so until the teams have all made their submissions to the review committee and the issue of wind speed and similar measures have been considered.
If Artemis then withdraw, Team NZ would be the Challenger of Record (Artemis currently are) and could, in theory, veto any wind speed or similar changes. However, to do that, they would need Oracle's permission.
While such an occurrence is still in the realms of the hypothetical right now, there is no doubting the real danger posed to Team NZ's Cup chances if Oracle's fancy turns towards lower wind speeds, benefiting their design.
Which is why Team NZ need to show what they can do on the water.