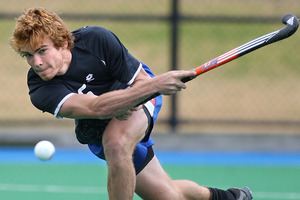 New Zealand 1
Korea 1
New Zealand will approach their weekend double-header against Korea in a good mindset after a much improved performance in the second test at Rangitoto College yesterday.
The scoreline was identical to the opening contest in the six-game series on Tuesday, but there the similarities ended.
There were periods of slick inter-passing, several chances were created and, unlike the first game, when the Koreans would have felt a bit stiff not to get the win, New Zealand shaded this match.
"We learned quite a bit from the first game," New Zealand coach Colin Batch said.
"I thought that was a below par performance for where we want to get to. We made a big step today."
New Zealand took the lead after 13 minutes from a penalty corner, through Andy Hayward's strong shot low past the goalkeeper's right hand.
Korea were level 12 minutes before halftime, when Nam Yong Lee - who also scored Korea's goal on Tuesday - deftly flicked in a ball driven into the circle through a sea of defenders.
New Zealand goalkeeper Hamish McGregor made several important blocks, as did his counterpart, Myung Ho Lee.
Attackers Hugo Inglis and Stephen Jenness were a handful for the Korean defence, while striker Isaac Staples did get the ball into the Korean net in the second half, but it was ruled out through the cross being too high.
Staples and James Coughlan couldn't capitalise on chances from close range while Dae Yeol Lee slapped a great opening across the face of the New Zealand goal.
The background to this series is the selection of the New Zealand team for their world league 3 tournament in Rotterdam next month.
There are 23 players in the squad. Eighteen will make the trip.
Korea's under-21 women's team beat New Zealand A 4-2 in the curtain raiser. Goals by Kat O'Callaghan and Jordy Grant bookended efforts by Hun Ji Kim, So Ri Nam, Bo Ram Song and Jin A Kang.