Order follows inquiry into claim Mt Albert Grammar coach made offensive comment at national tournament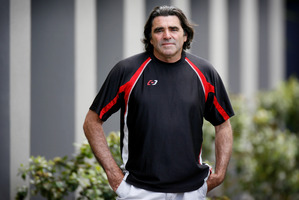 A former All Whites coach who is working at a top sporting high school has been banned from making any on-field decisions after complaints about his behaviour.
Kevin Fallon is still coaching the Mt Albert Grammar School 1st XI, but his role has been restricted.
He has been head of the school's sports academy for about 17 years, and has faced several complaints during that time about his conduct.
In September, the Herald revealed that the school was investigating a complaint that Fallon made an "inappropriate and offensive" comment to a player in a rival team at the secondary schools premier cup tournament in Nelson.
Several months after the complaint was made and following an investigation into the claim by the school, it was decided that Fallon would continue to coach the 1st XI team during weekday training, but would have no "on the bench" involvement on Saturdays when they played.
During half-times, he still takes the team into the changing room to advise them.
Fallon - father of former All White Rory - was present to see the team beat Kelston Boys' High School 5-0 last weekend.
But MAGS headmaster Dale Burden said he took no part in on-field decisions, including substitutions.
He said there had been no indication from the school to Fallon or the 1st XI that he was not their coach.
"He is still coaching. I don't want to say any more or any less."
Mr Burden gave a written statement to the Herald about the conclusion of the investigation, saying the matter was "now resolved".
"The school has investigated allegations arising from the NZ Secondary Schools final in Nelson," he said.
"The investigation has taken a number of months to complete and Mr Fallon has been advised of the outcome. The school is unable to make any further comment about this matter, because this is a confidential employment matter."
Mr Burden refused to elaborate on the outcome of the investigation.
Fallon did not return calls yesterday.
When asked for comment about the investigation in September, he said: "I can't and I won't ... I've got nothing to add at all. Write what you want."
New Zealand Secondary Schools Football national administrator Leigh Perry said he was aware of the September complaint, but he could not comment on the details.
Fallon has made headlines several times over his sideline behaviour.
In August 2009, he was banned for a season after complaints were made that he had accused a referee of being biased.
In September 2008, Auckland Grammar pulled out of the final with MAGS over claims Fallon manhandled a player during a brawl.
Read more: A little encouragement can go a long way in sport