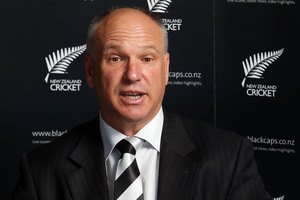 India could play as few as 14 days' cricket on their tour of New Zealand next year.
The schedule for the trip, due to be the high point of the home international season, called for three tests, five ODIs and a T20 on the International Cricket Council's Future Tours Programme. However it has been subject to wrangling between the two countries for months.
An Indian newspaper report claims the tour will start on January 29 and run until February 22, comprising two tests, three ODIs and one T20. If correct, it makes a mockery of the FTP, which is supposed to be the schedule which governs all international series through to 2020.
It was also claimed India initially wanted to pull out of the New Zealand tour altogether. Even forcing a significantly shortened trip is making a nonsense of the FTP and what it is designed to produce - that is, an organised structure involving bilateral series for all countries.
New Zealand Cricket chief executive David White would only say the two boards are "still working through the details of the schedule. We haven't confirmed anything yet."
However, White admitted the 14-day programme as reported in the Mumbai Mirror was likely to be not far off the mark, especially as India have to return in time for the start of the Asia Cup in Bangladesh, also featuring Sri Lanka and Pakistan, due to start on February 26.
"It will be an abbreviated tour here because of the Asia Cup, but it's important to note we will make up the balance in other tours." However India are not due to tour New Zealand again until February, 2019.
India are touring South Africa from early December until January 22.
If those New Zealand tour dates are confirmed, it raises the question of how New Zealand Cricket will occupy the latter part of prime international home season territory.
White confirmed there are no plans to bring another team in for a short visit. One part of that period is taken up by the world T20, also in Bangladesh, starting on March 16.