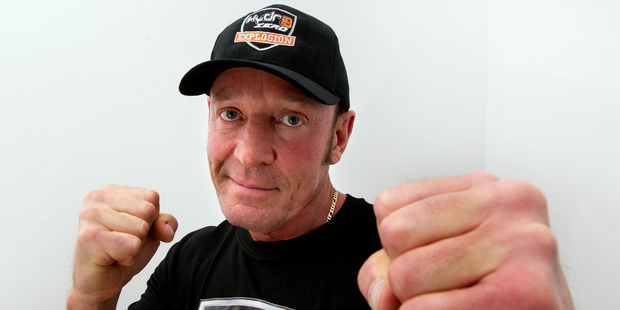 On the wall of Kevin Barry's gym in Rich Moriarty's house, among other boxing memorabilia, is a copy of a cheque made out by Don King to Mike Tyson. It's for US$25 million ($30 million). And zero cents.
It symbolises what they say about Las Vegas - you can do anything here, as long as you have the money.
And boxing is all about money. Las Vegas has long been one of the strongholds of boxing and the sport is still a mainstay of the Vegas entertainment scene.
Last week's Floyd Mayweather-Robert Guerrero fight was a big deal at the MGM Grand, one of six bouts Mayweather has signed up for; supposedly earning him US$200 million. Ringside seats cost US$1500.
Rookie New Zealand professional Joseph Parker and trainer Kevin Barry aren't in that league but they are honing their push in part of Moriarty's plush house, which is given over to Barry and Parker.
The first time we see Parker spar in his training for the Brice Ritani-Coe fight on Saturday he's in a gym in a little-trodden part of Las Vegas; it's nestled next to the Bonnie & Clyde bail bondsmen and the Smoking Gun tattoo parlour.
Today he's in a custom-built boxing ring in Moriarty's house in a wealthy gated community. Barry's memorabilia wallpapers the surroundings. David Tua is everywhere.
This is where Barry has built a business, training corporate clients - some from Moriarty's Union Gaming Group, an investment bank specialising in gaming - funding casinos and the like for clients such as mutual and hedge funds.
They met in Vegas and Barry and Moriarty have become firm friends. When he heard Parker was coming to train in Vegas, he arranged for him to train at his home. Vegas being the sort of place it is - most of mankind's sins and temptations are here, in lavish fashion - there is a lot of phoniness around and Barry and Moriarty are striving to create a family environment for the 21-year-old Mormon fighter.
"He's a great guy - he's so laid-back and humble; he has no ego whatsoever and it's so important that he have a positive influence here in Vegas," says Moriarty. "With everything going on in the entertainment industry here, it's vital that he have a strong family life.
"We see a lot of him, my wife loves him and the more I see of him, the more I realise his potential."
Moriarty arranged the ringside seats to the Mayweather fight, with boxing still an important part of the return to his clients on the money invested in casinos - here and in Asia. Union Gaming participated in 2011's US$1.5 billion IPO by MGM China and last year's US$415 million financing plan for the US$750 million SLS Las Vegas casino - a sign the industry is bouncing back after the global downturn produced some comparatively lean years.
Vegas has a strong base and Moriarty thinks it will remain so, even with the burgeoning threat of Asia and centres like Macau, where his company also invests. The US gaming industry turnover is about US$8 billion, Macau alone is worth US$40 billion.
For now, though, it's back to his three-times-a-day training for Parker as he and Barry work on technique at the gym.
"I have loved what I've done in Las Vegas," said Barry, "and I have worked hard and been very lucky.
"I like the corporate training that I do - but I felt there was something missing in my life. So being able to work with someone like Joseph is great."