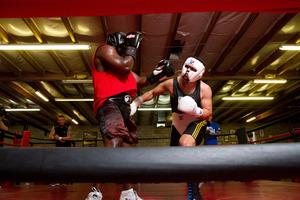 It's Friday in Las Vegas and Joseph Parker is trying to hit Friday into next Tuesday.
That's Friday Ahunanya, the Nigerian-born, Las Vegas-based heavyweight conqueror of Shane Cameron in 2007 but defeated by David Tua in his comeback campaign in 2010.
New trainer Kevin Barry watches intently as Parker tries - and succeeds encouragingly often - to find a way through Ahunanya's defences. Parker, almost unknown in the New Zealand boxing scene compared to Tua and Cameron, is going up in the world.
Ahunanya is Parker's sparring partner ahead of his fight against controversial South African heavyweight Francois Botha next month; an opponent for whom Parker's connections think a warm-up bout is necessary for their young charge. He fights Brice Ritani-Coe on May 17 (NZT) in California.
The first thing you notice about Parker is his build. At 1.93m and 107kg, he is not small.
But, at 21, he still has a look of the stripling about him - a young man who has not quite grown into his adult body. That will surely be bigger than now as he fills out, although he is formidably fit after training three times a day under Barry's watchful eye.
The next thing you notice is his speed. He has a long reach and that formidable weapon for a heavyweight - a quick jab.
With it, he bothers Ahunanya - a boxer adept in defence and who deflects blows with his gloves or clever head movements. He has a renowned constitution, has never been knocked out and has been in the ring with champions.
Chris Arreola, Alexander Povetkin, Sultan Ibragimov and Sergei Liakhovich might not qualify as household names but they have all, save Arreola, been "world" titleholders in boxing's many-faceted collection of organisations. In short, Ahunanya has been up against a lot of fighters with bigger reputations than Parker.
But he leaves the ring impressed and rates Parker's speed as quicker than either Tua or Cameron.
"That's good," says Barry of Ahunanya's assessment. "It was the first thing I noticed. He had good hand speed for a big guy.
"But he needed to be a lot more patient. It was a thing from the amateur days - he was rushing in and throwing too many punches and too many of them were ineffective. He wasn't taking his time on placing them and landing good shots.
"I call it owning the zone - that area between you and the opponent. Previously, Joseph has tended to get in close and rumble. If you have a shorter opponent, all that does is give them an opportunity. I am trying to get him to factor in those long arms and play to his physical attributes."
Parker, unusually in these days of the "me" generation, is genuinely tickled by the media attention. Charmingly, he thanks us for being there to see him.
He is living with the Barry family - wife Tanya was a former New Zealand Olympic gymnast, daughter Jordy and two football-playing sons Mitchell and Taylor - and is immersing himself in Las Vegas's renowned boxing culture.
This was the venue for last week's Floyd Mayweather welterweight title fight against Robert Guerrero - the first of six fights in 30 months, worth about US$200 million. They don't do things small in this town.
When Mayweather beat Guerrero, Barry and Parker were at ringside, in US$1500 seats donated by a benefactor. That night Parker was too excited to sleep and stayed up most of the night, texting and phoning friends in New Zealand to tell them of the fight.
"When I went to get him up to go to church the next morning, I took one look at him an asked him what he had been doing," says Barry. "I then told him to go back to bed.
"He's a great guy, my family love him and it's like we have known each other for years.
"Yes, he's got a lot of promise but all this [promotion and publicity] is building him into a bigger fighter than he deserves to be right now.
"He hasn't done anything; he hasn't achieved anything. It's early, early days. But you give me two years with him and when he fills out a bit more and learns a bit more - he'll be a totally different animal then."
The first steps of that journey are being taken now - with the seven weeks of training here, the fight against Ritani-Coe and then Botha.
• Paul Lewis is in Las Vegas courtesy of Duco Events.