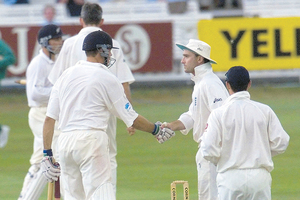 Sixteen New Zealanders have their names on the famed Lord's honours board. Another 13 have come desperately close to joining them.
The latest generation of New Zealand cricketers take to Lord's for a test this Thursday. Eight new players are expected to be added to the roll of 106 who have appeared in the 15 tests since 1931. Captain Brendon McCullum, Ross Taylor and Tim Southee appeared previously in 2008.
The incumbents need look no further than Sir Richard Hadlee, Martin Crowe and Stephen Fleming for guidelines on how to succeed at cricket's most famous ground.
Fleming scored a century on Lord's debut when New Zealand played Middlesex in 1994. He went on to lead New Zealand to their first and only test win at the ground in 1999. Middlesex contracted him as their county professional in 2001; he made four centuries in 14 first-class matches and averaged 51.95.
"Lord's is a magnificent ground which provides a special, emotional link for anyone who loves the game," Fleming says. "In my experience, players raise their performances there. It's a chance to be the best you can be at the home of cricket and is generally a great point in the tour.
"I was lucky enough to call Lord's home for six months. I was pretty much there for breakfast, lunch and dinner. The ground has its quirks, like the [approximately two-metre] slope, but you always appreciate its history.
"The dressing rooms are special. They're places which enable the players to sit and dream. You're not lacking for motivation.
"The tests are always well-attended and some players are lucky enough to get their names etched on the honours board forever."
Fleming says his 1999 side caused members' traditional bacon-and-egg coloured ties to go a bit skew-whiff with their approach.
"We played aggressive cricket to win. I remember walking through the Long Room and getting the feeling members were not overly happy."
Fleming also remembers the lunches: "I wouldn't say they were set by a dietician for high-performance sport but there were few complaints ordering the rack of lamb or the eye fillet each day."
MARTIN CROWE played four tests at Lord's from 1983-94. His original baptism came in 1981 as an 18-year-old fresh out of Auckland Grammar School when he accepted an annual scholarship to be a member of the Marylebone Cricket Club staff.
Future New Zealand test cricketers Mat-thew Bell, Hamish Marshall and Ross Taylor are among those to do likewise. Crowe even made a century in his first appearance at the ground in an MCC Young Cricketers vs MCC annual one-day game.
In his autobiography Out On A Limb, he refers to "the most wonderful cricketing education for six months ... every day of the week we'd arrive at Lord's in a jacket and tie and then practice and learn everything there was to know about becoming a cricket professional.
"Playing at Lord's is the greatest experience I've had as a cricketer."
Like Fleming in 1994, Crowe also made a debut first-class hundred (134 not out) at the ground against Middlesex in 1983 before becoming the only New Zealander to make two test centuries there (1986 and 1994).
In his book, Crowe described his second century as the greatest innings of his life: "I'm happy. Then, all of a sudden, I'm overwhelmed. Shane Thomson shakes my hand and I burst into tears, I'm choking up. This is pure, utter elation. All that hard work over the past five months has meant something ... I'm struggling to see, my eyes are so full of tears of joy. I ask Shane to give me 10 minutes to come right."
In a career that came full circle, Crowe was also invited to deliver the Spirit of Cricket Cowdrey lecture at Lord's in 2006.
SIR RICHARD HADLEE created a first when he played at Lord's for the fourth and final time in 1990.
He was knighted beforehand and became the first test player to take the field with such a title. When captain John Wright gave Hadlee the honour of leading the team on to the field, the crisp, English public school voice on the public address system announced: "Ladies and gentlemen, Sir Richard Hadlee."
In his latest memoir, Changing Pace, Hadlee described his emotions: "There was a standing ovation, which made me feel 10-feet tall, yet also very humble."
While Hadlee features three times on the visitors' bowling honours board at Lord's, his highlight in that rain-affected final match was 86 with the bat. His most freakish display at Lord's also came with the bat when he scored 210 not out for Nottinghamshire against Middlesex in 1984, the only double century in his career.
It proved the catalyst to take him to that English first-class county rarity of 1000 runs and 100 wickets, known as 'the double'.
Hadlee also produced a match-winning performance, making 70 off 61 balls to guide Nottinghamshire home in the last over against Northamptonshire in the 1987 60-over final.
So plenty to consider - and act on - for the class of 2013 as they endeavour to back up a respectable home series.