It's that time of year again. All Black selection time. With the debate still fresh on the form of some key All Blacks and issues like sabbaticals, it's time to consider who has been putting their hand up in the corner of the changing room and saying: "Pick me, pick me ... " — if not now, then for the future. Our experts give their views on the good, the bad and the uncapped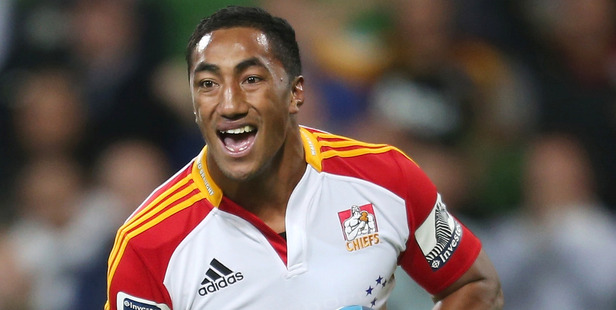 Who has been the best signing and why?
Gregor Paul says: Ben Franks (Hurricanes)
Franks has been aggressive, dynamic and hugely impressive since joining the Hurricanes from the Crusaders. The proof of how much he's improved will come next month, as he surely has to start at loosehead for the All Blacks ahead of Tony Woodcock.
Paul Lewis says: Chris Noakes (Blues)
He was supposed to be a bit of a wooden Indian; good kicking game but notmuch in the running phases. But he has been a massive steadying influence at the Blues and, as well as his territorial game, has surprised with several dummying runs. Defences now have to watch him, meaning more room for the Blues' punishing runners. Gareth Anscombe might have done well in his shift to the Chiefs but Noakes has vindicated Sir John Kirwan's selection.
Wynne Gray says: Gareth Anscombe (Chiefs)
By any measure, Gareth Anscombe. He may not have started at fullback had Robbie Robinson been fit but Anscombe has brought his deadly goal-kicking and added a heads-up support game with his pace.
Bailed the Chiefs out of several tight games.
Patrick McKendry says: Ben Franks (Hurricanes)
The Canes front row has improved hugely thanks to the addition of Franks from the Crusaders. He has helped solidify what in the past has been a suspect scrum, but most noticeably his work around the field has gone up several notches. Regular game time suits him. He has brought a demanding edge to the franchise and has been outspoken in his desire for improvements across the board. Second place probably goes to Blues first-five Chris Noakes after his move from the Highlanders. Gareth Anscombe deserves a mention at the Chiefs.

Who has been the biggest disappointment?
Gregor Paul says: Robbie Fruean (Crusaders)
Another season appears to have drifted past Robbie Fruean. The Crusaders centre, after such a sensational year in 2011, has never risen to those heights again. Dropped a couple of weeks ago, the time may have come to accept that he's never going to be the player he once threatened to be.
Paul Lewis says: Ma'a Nonu (Highlanders)
Has sparked the ongoing debate about All Blacks in poor form in Super Rugby. You'd think, after reneging on a handshake with Kirwan, that Nonu would be at the top of his game, bursting with desire to prove that the move, at least, was the right thing for him. Nope.
Wynne Gray says: Tony Woodcock (Highlanders)
He shot through on the Blues and has not yet offered much for the Highlanders. Has been injured and, if that's the case, shouldn't have played. Another in the protected international species group.
Patrick McKendry says: Tony Woodcock (Highlanders)
Franks has thrived after his move north but Woodcock has gone backwards big time after his shift south from the Blues. All signs pointed to his rejuvenation after linking with his front row mate Andrew Hore but the opposite has occurred, even allowing for his hamstring injury. He'll make the All Blacks squad for next month's tests but the clock is definitely ticking for him.

Who has been the best newcomer to Super Rugby?
Gregor Paul says: Liam Coltman (Highlanders)
He has been a hairy ball of energy who drives low into contact, empties everything out of the tank and relishes being in the opposition's faces. He's been restricted to cameo roles but every time he plays, he makes an impact, gets himself noticed. He's jumped from nowhere to being firmly on the All Black radar.
Paul Lewis says: Dominic Bird (Crusaders)
He's big, fast, hard, has All Black written all over him, and is coming up at the right time as Ali Williams nears the end of his career and Anthony Boric departs for Japan. He's 2.06mand 112kg, so no wonder Kirwan tried to poach him for the Blues. Maybe needs a season or two yet, as his game time is a little restricted behind All Blacks Sam Whitelock and Luke Romano, but a real prospect.
Wynne Gray says: Bundee Aki (Chiefs)
The Chiefs had all sorts of midfield injury issues and have relied on this rookie for some big contributions in the congested traffic areas. Strong response, big-game temperament.
Patrick McKendry says: Frank Halai (Blues)
A constant danger, the winger and sevens specialist has made the transition with ease and is one of the best finishers around. Hurricanes flanker Ardie Savea had a stunning debut but hasn't quite maintained it. Bundee Aki has looked good in the Chiefs' midfield but, for me, it's Halai on top. Competition-wide, it would Waratahs outside back Israel Folau, no question.

Who would you consider the most valuable player in Super Rugby and why?
Gregor Paul says: Ben Smith (Highlanders)
Ben Smith barely makes a mistake and sits in the top 10 for many of the key statistics such as metres gained, defenders beaten and offloads. He can play across the backline, is rarely injured, was in form from week one and has also been able to score a couple of miracle tries.
Paul Lewis says: Dan Carter (Crusaders)
Not a form judgement as much as a class call. Carter's not been at his best because of various factors - baby, injury and just plain old being off the boil. But he is coming right at the right time and he remains, in all New Zealand rugby, the most complete match-winner there is. He can score in every way possible, can break open a game with his running and that remarkable fend and his defence illustrates the technique and strength that resides in a comparatively small frame. Still the best 10 on the planet by a street.
Wynne Gray says: Craig Clarke (Chiefs)
The Chiefs are a much tougher outfit when he leads them on the field. He may not be the best lock in the land a la Blackadder, but he knows the buttons to push on the track.
Patrick McKendry says: Steven Luatua (Blues)
A standout this season, the blindside flanker showed glimpses last year but has been consistently excellent under Sir JK and Co. He is excellent in the lineout, brings a hard edge to the defence and is relied on for the Blues' go-forward. A valuable mix. Fortunately, he has been injury-free because the Blues would be weaker without him. Aaron Cruden at the Chiefs also has claims but he will increase in value during the play-offs.

Which uncapped player or players would you say simply have to be promoted to the All Blacks this year?
Gregor Paul says: Steven Luatua (Blues), Ben Tameifuna (Chiefs), Alapati Leiua (Hurricanes)
Steven Luatua hasmade an irresistible case at blindside, a position where there is a lack of conviction around incumbents Liam Messam and Victor Vito. Ben Tameifuna is either the best or second-best scrummaging tighthead in the country and Alapati Leiua has been, at times, the sole bright light at the Hurricanes, using his pace, power and elusive running to get them going forward.
Paul Lewis says: Steve Luatua (Blues), Ben Afeaki (Chiefs), Tom Taylor (Crusaders)
Luatua is everyone's pick, for obvious reasons. Afeaki, if he gets back to form after injury, should go on the end-of-year tour to trial his size and explosive speed,among other assets. Taylor might not make it this year but by 2015 ... ? He is ice-cool, a metronomic goal-kicker, can play 10, 12 or 15 and has father Warwick's ability to make the right decisions in pressure situations. No rock star, perhaps, but he is the bass player who does his job without blemish and who allows others to sing.
Wynne Gray says: Frank Halai (Blues)
The right wing vacancy cries out for Frank Halai. A late starter in Super 15, he has shown he is more than just a fast learner. A big man, he has gas, speed and reads the game strongly. Savea on the left, Halai on the right, Dagg at the back - kick it to them and see what happens.
Patrick McKendry says: Steven Luatua (Blues), Tim Nanai-Williams (Chiefs)
Luatua's form demands a call-up, and the All Black coaches need to get him up to the next level to further his development. With gaps likely in the All Blacks' midfield and on the wing, Tim Nanai-Williams from the Chiefs deserves a place, despite questions over his defence. Hopefully, his persistent groin injury allows him to further his claims. He is such an exciting attacking player, he deserves a shot. His work at the breakdown belies his size, too.

Who has been your unsung hero in 2013 so far?
Gregor Paul says: Culum Retallick (Blues)
Culum Retallick has been as effective for the Blues this year as Craig Clarke was for the Chiefs last. The Blues have moved to sign him up on a longer-term contract, conscious that he's been a major contributor for them in the way he's powered through his basic chores and sought no glory.
Paul Lewis says: Luke Braid (Blues)
It used to be said of All Blacks such as Justin Marshall and Wayne Shelford that they were players "you'd go to war with" and Braid is another. Highly unlikely to make the All Blacks but the Blues have no better operator at ruck, maul and tackled ball, and he takes the ball up so often in 80-minute efforts that his face often looks like someone's had a go at it with a meat tenderiser. A player others follow.
Wynne Gray says: Piri Weepu (Blues)
He wears a slimmed down No 9 Blues jersey. Piri Weepu has been the glue, the conductor and Mr Reliable this year. He turned up in good nick, has plugged the gaps and run the plays. Salute!
Patrick McKendry says: Matt Todd (Crusaders)
Goes about his work with a minimum of fuss at the Crusaders. The openside flanker is an able replacement for Richie McCaw but probably won't get a call-up to the All Blacks squad for the June tests. He makes a lot of tackles, links well, and is an expert at the breakdown, a lot of which goes unnoticed.