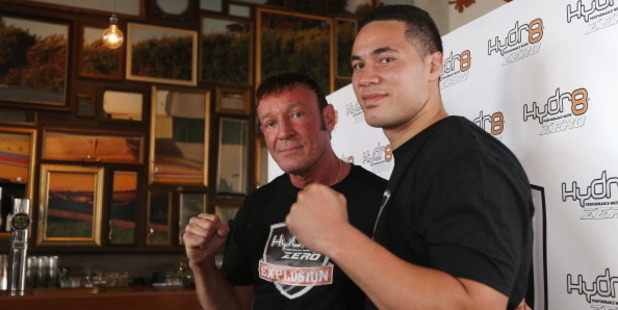 Not too long ago Joseph Parker was an amateur, training in an Otahuhu gym, often alone. Now he's in Las Vegas sparring with a man who has mixed it with boxing world champions - and impressing him.
Friday Ahunanya is ideally placed to assess the merits of the 21-year-old heavyweight who is taking his first steps into the complicated world of professional boxing. Ahunanya has a lot of Kiwi experience - he fought and beat Shane Cameron in 2007 before losing to David Tua in 2010.
He is a canny, defensively skilled fighter with a granite chin and a credible record, so you tend to listen when he says that Parker has far more speed in his long arms than either Tua or Cameron.
"Oh, yeah, that's obvious," he says after sparring four rounds with Parker yesterday. "He's a promising fighter. He came out with the jab and used it well. He's got long hands and he's using his long reach.
"I noticed that when I tried to put some moves on him, he backed off quickly, reset himself and then came at me again. I found that a little disorientating."
Ahunanya has fought heavyweights like US hope Chris Arreola, Alexander Povetkin, Sultan Ibragimov and Sergei Liakhovic - all well-rated boxers in the bunch below the two Klitschko brothers (Vitali and Wladimir) who have so dominated the division in recent years.
Nigerian-born but Las Vegas-based Ahunanya is now 42 and hasn't fought since December 2011. He's lost all his fights to that well-rated brigade up above but, even if his career is on the wane, he is still a tough opponent; an ideal sparring partner ahead of Parker's fights against Brice Ritani-Coe (on May 17, NZT) and against South African heavyweight Francois Botha next month.
Ahunanya is solidly built, has an excellent defensive style, using his gloves to deflect blows and is adept at slipping punches with head movements. He is not unlike Botha in style and he and new trainer Kevin Barry have clearly been working on not getting into clinches - as Botha did against Sonny Bill Williams - and boxing his way out of them when they do occur.
The 1.93m, 107kg Parker has been working with Barry - former trainer of Tua - in Las Vegas for about three weeks of a planned seven weeks; it's a long way from the small boy who used to mock-punch his dad's hands and who remembers his first fight as an overweight 12-year-old. He also had to train alone at times when his previous trainer had to work. Now he is training three times a day under Barry's "That's good," says Barry when told of Ahunanya's analysis of Parker. "Joseph and I have been working on that."
"He's got great head movement," says Parker of Ahunanya. "You can really tell the experience he's gathered in the ring. It's great to be working with someone like him ahead of my next fight - I am not thinking of Botha yet; I have another fight first."
That Parker is starting to build a small reputation is evident when Barry tells the tale of the difficulty of finding a warm-up opponent before the Botha bout. Several heavyweights in Las Vegas were approached to fight Parker and several agreed - but pulled out when they saw video footage of Parker from his amateur days and his first few bouts as a professional.
"They took one look at the video and then declined," says Barry. "Social media makes it hard, very hard, to arrange a fight these days. You can't hide anything."
* Paul Lewis is in Las Vegas courtesy of Duco Events