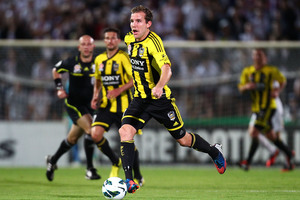 It was a phone call from the blue with an offer that proved to good to turn down that sealed Jeremy Brockie's loan move to Toronto FC.
The Phoenix and All Whites striker received a call from his former All Whites teammate and new Toronto manager Ryan Nelsen last week that has saved him from a few windy Wellington training sessions over coming months.
"Ryan called me on Friday afternoon and asked if I wanted to change a Wellington winter for a Toronto summer and come and score some goals for him,'' Brockie said.
It didn't take long for the 25-year-old to agree and he will link up with the Canadian outfit next week.
He and wife Jess had planned to spend the next month in Australia seeing extended family and showing off their 12-week-old daughter, Piper, but that will now be cut to a week in Townsville before Brockie heads north.
His family will join him in Toronto in a month and, by that time, Brockie hopes he will have found his name on the score sheet a few times for the MLS strugglers who are ninth in the 10-team Eastern Conference after nine games.
"I'm still reasonably fit so it won't take me too long to top back up,'' Brockie said. ``I'm really excited and looking forward to the opportunity and, once I get over there and meet the boys, I'll slot in pretty easily and hopefully do my business on the field.''
Despite the Phoenix picking up the wooden spoon last season, Brockie was a rare bright spot and scored a club record 16 goals from 24 games.
Phoenix general manager David Dome said Brockie's loan was a good chance to keep him in top condition, especially given the long nature of the A-League off-season.
"It is a great opportunity for Jeremy as the MLS is of a good standard, and it is possible that Jeremy could come back an even better player than he now is,'' Dome said.
"The break between seasons in the A-League is too long and the club has been looking for opportunities for some of the players to play football in other leagues in an effort to get greater benefit from the break.''
Defender Michael Boxall has also been loaned out to the Oakleigh Cannons in the Victorian Premier League across the Tasman. Boxall made only a handful of appearances for the Phoenix as back up to centre-backs Ben Sigmund and Andrew Durante.
Brockie will return to New Zealand in August ahead of the new A-League season which kicks off in October. The club will soon announced their new head coach.
Brockie's impending debut in the MLS will mark his first professional game at club level outside of the A-League in a nomadic career that has included stops at the New Zealand Knights, Sydney FC, Newcastle Jets and the now-defunct North Queensland Fury.
He's also had stints with Canterbury United, Team Wellington and Hawke's Bay United in the ASB Premiership.
- APNZ