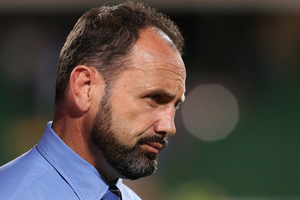 Western Force coach Michael Foley believes his team have been dudded on the fixture front as the Super rugby club braces itself for a gruelling trek back to New Zealand.
The redevelopment of nib Stadium meant the Force's early-season fixtures were always going to be a nightmare, with the Perth-based franchise unable to play at home until round six.
That resulted in the Force travelling to Melbourne, South Africa and Brisbane in the first five weeks, before returning to Perth to take on the Cheetahs for their first home game.
Foley understands exceptional circumstances were behind that hectic travel schedule. But the Force feel aggrieved they have been given only a six-day break to make the trek from Perth to New Zealand for Friday night's clash with the Chiefs in Pukekohe.
Instead of staying on in New Zealand for another game, or playing an east-coast team on the way back home, the Force will return all the way back to Perth for a home match against the Sharks.
"This team has been significantly disadvantaged by the scheduling this year," Foley said. "A six-day turnaround into the Chiefs ... we can't necessarily do a significant amount of training in the time that we have.
"If the tournament organisers can give us a schedule that's a little bit more even-handed, that would be good. I just have a lot of admiration for Hodgo [Matt Hodgson] and the boys having to cope with some of that scheduling."
The Force's confidence was given a timely boost in the weekend's 11-11 draw with the Reds in Perth.
The Force announced on Sunday they had parted ways with winger Alfie Mafi, whose list of misdemeanours caught up with him.
However, the successful return of winger Nick Cummins against the Reds has at least helped to offset the loss of Mafi.
- AAP