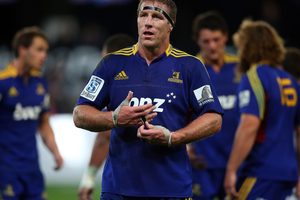 If ever there was a time to turn a new chapter, this is it.
Do not look back - it is too scary, too depressing. The Highlanders need to move on, start afresh, and blaze some new trails.
After all, they have racked up eight straight losses this season, and the last time they beat the Sharks, George W Bush was leading the free world.
A week away from rugby, for most anyway, and one must hope the baggage has been removed and clear minds are now in the Highlanders camp.
Coach Jamie Joseph acknowledged the week off had given players the time to think about what had happened and what to do about it.
"I think, mentally, there has been a lot of reflection. At the end of the day that is the biggest challenge for the guys and that is the big C word - confidence,'' he said.
"When you are not getting the rub of the green, for whatever reason, then you tend to go within yourself. That is what I am seeing. It is not from lack of trying.
Maybe they are trying too hard. So, that week off will be great for that. Kick back and reflect on those sort of things.
"Now, though, we have to front up again.''
The Highlanders found every way to lose in those eight games. Poor set piece in one game, poor defence in another, a bad call or two in others.
In some ways, the Highlanders must be due for a win. But sport does not roll like that. Lessons can be learned but that does not always translate into victories.
They just have to start playing better and, most importantly, perform the basics well.
Joseph's men need to be more accurate in everything they do. Too often this season, they have let themselves down with a basic lack of skill.
Joseph sensed the Highlanders now needed to focus on the Sharks - a team they have not beaten since 2005 - with a three-week trip overseas to follow.
"Everyone has had a bit of a breather and a bit of time to think about things. So now is the time to get excited about facing the Sharks, who have been targeting us as a team. If anything, that is going to help us.
"We are certainly approaching it as a fresh start for us. We are heading off to Africa on Sunday and potentially, that is probably a good thing for us. Getting out of home where we just have to rely on us. It is tough there at the best of times but what that tends to do is galvanise us as a team.''
The Highlanders should not struggle for motivation tonight.
Brad Thorn will play his 100th game at this level - and will be presented with a greenstone mere by All Black coach Steve Hansen after the match - while Tamati Ellison is back for his first game of the year.
Joseph is looking forward to getting his experienced centre back.
"He has been training with the team for the whole year. He has had a sore shoulder but he hasn't had a sore brain or a sore leg. He is going to bring experience and a calmness and confidence to the team because of that experience.''
Ellison's return is dampened somewhat by the absence of Ma'a Nonu though Shaun Treeby, also back from a lengthy injury break, is an able substitute.
The match will be refereed by Steve Walsh.
* Seven Highlanders have been released to play club rugby today: Jake Paringatai (Southern), Bronson Murray (Pirates), Hugh Blake (Dunedin), Frae Wilson (Southern), Brayden Mitchell (Green Island), Jamie Mackintosh (Harbour), Trent Renata (Dunedin). There is no club rugby in Southland this weekend, so Southlander Mackintosh is playing for Harbour.