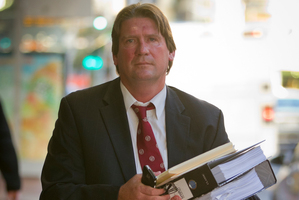 A lawyer has cast doubt on the validity of a racing horse's urine sample, which showed boosted amounts of a pain relief drug that can also improve performance.
Auckland veterinarian Dr Patrick Casey is facing five charges of professional misconduct before a Veterinary Council hearing in relation to the drug's administration in the racehorse Faalcon.
On day-one of the hearing yesterday, the Council heard that Dr Casey gave Faalcon a higher-than-recommended Ketoprofen dose three days before a race in January 2009.
The 5-year-old chestnut gelding won the Otago race by three-quarters of a length.
The dose administered to Faalcon was allegedly 55 per cent in excess of what was recommended for a horse of his weight, according to commonly accepted EVA guidelines.
But Dr Casey's lawyer, Eugene St John, today questioned several expert witnesses over the urine sample and correct protocols for the pain-relief drug during cross-examination in Auckland.
Ketoprofen is a prohibited substance under the New Zealand Rules of Racing. According to the New Zealand Equine Veterinary Association (EVA), a special interest group of the New Zealand Veterinary Association, safe-practise guidelines recommend a dose of the drug be administered at least 96 hours before competition. This allows a 24-hour buffer to the drug's 72-hour detection period.
However, Mr St John presented evidence from two North American journal articles and a document from a manufacturer of the drug, which recommended a different Ketoprofen treatment dosage to the EVA.
In response, one of the expert witnesses, Dr Murray Brightwell - a former EVA president - stated EVA guidelines were based around best practise principles, designed to protect its members and those who chose to follow the guidelines from "getting into trouble''.
He also pointed out that a different dose amount was required for therapeutic treatment of a horse, and said if Faalcon required the amount of Ketoprofen that was administered by Dr Casey, he may not have been fit to race.
Mr St John also questioned the validity of Faalcon's 2009 urine samples, which showed traces of Ketoprofen.
Issues around storage of the samples, which were transported overseas during the testing process, were put to expert witness Dr Geoff Beresford - the official racing analyst and general manager for the New Zealand Racing Laboratory Services.
Dr Beresford did not believe deterioration of the samples was an issue.
- APNZ