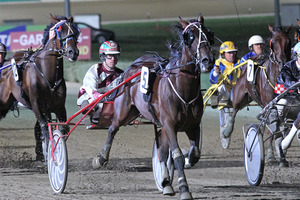 Recent stats say Stent is the horse to beat in tonight's $150,000 Canam Rowe Cup at Alexandra Park, but career records suggest Vulcan and Stig can down him.
The trio dominate Auckland's premier trot race, with Stent the young gun on the scene, Vulcan the star of the autumn and Stig an equine Rocky Balboa in Rocky V, hoping that brute strength can still beat down the raw speed of youth.
Stent is the horse to beat because, quite simply, that is the story of his career: if he doesn't win, he is the horse the winner beats.
In his past 17 starts he has finished first or second and it almost doesn't seem to matter what grade that is in - group one company or four-win front - Stent can win either or be beaten in both.
He was outstanding winning last Friday's Anzac Cup and even though he had the perfect run he sprinted so brilliantly it will take a great horse to hold him out if, as usual, he sits handy to the speed doing no work.
Stent's biggest concern, though, is there are two great horses in the race and both are superb stayers.
Stig has raced three times over tonight's 3200m for two wins and a second to I Can Doosit in this season's Dominion Handicap.
Vulcan has had four starts over 3200m for three wins, so the extra distance of tonight's race will suit them more than the young pretender.
The trio's hare-and-the-tortoises' battle is somewhat evened out by the fact Vulcan never really looks comfortable around Alexandra Park and Stig hardly looks comfortable doing anything any more.
So if Vulcan finds an aversion to the marker pegs inside the final 400m tonight, as he did in the Anzac Cup, he could see Stent zooming past him again.
Still, there are few better 3200m drivers in harness racing than Anthony Butt and he may play the stalker with Vulcan and if balanced the little trotter will finish off the 3200m stylishly.
The marker pegs are exactly where Stig needs to be to win, but only if he is in front, while hugging them.
His awkward issues these days mean he is vulnerable when asked to work wide in his races and sitting parked is a hard path to glory over 3200m.
However, if he rolls to the front in the middle stages, and few of his rivals would be keen to hold him out, then the race is his to lose.
Christen Me cruised to victory in the Taylor Mile last Friday and trainer Cran Dalgety has bad news for rivals trainers in tonight's Messenger.
"Last week's race tightened him up and I am sure he will be better this week," Dalgety told the Herald.
Which means barring something incredibly odd happening he will win again.
The best juvenile fillies meet in the Sires' Championship and Te Amo Bromac might just have too much speed for Venus Serena. As long as they don't go to war they should settle too far in front of their key second-line rivals.
The Trotting Derby is tricky, with the brilliance of Royal Aspirations versus the stamina of Habibti and a few handy support players thrown in, including Aussie stunner Blitzthemcalder, who is doing his best to prove that all that glitters isn't gold.
Rowe Cup Night
- The Rowe Cup is one of four group ones at Alexandra Park.
- Stent, Stig and Vulcan dominate the main trot.
- Trainer Cran Dalgety says Christen Me has improved going into the Messenger.
- Tactics will be crucial in the Trotting Derby and juvenile fillies' features.