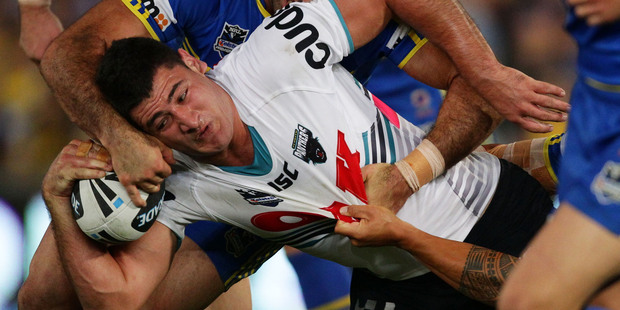 1: Pain in the neck
It has been revealed that Penrith and Kiwis prop Sam McKendry played on for 14 minutes against the Eels last week despite breaking his neck in a tackle. McKendry was hurt in the first half and, believing it was a relatively minor shoulder injury, returned for a stint in the second half. It's an extraordinary feat but certainly not the first. Goalkeeper Bert Trautmann, who served with the Luftwaffe during World War II and faced considerable opposition when he was signed by Manchester City (20,000 attended one protest), entered football folklore when he played on despite suffering a serious injury in the 1956 FA Cup final. His neck was noticeably crooked as he collected his winner's medal and an x-ray three days later revealed it to be broken. He was later made an honorary OBE. McKendry would probably settle for a return to the playing field and a World Cup winner's medal.
2: Hot diggity dog
Tonight's match at ANZ Stadium celebrates the 25th anniversary of the grand final between the Bulldogs and Tigers and league bosses have got into the swing of things by offering a 1980s theme for the pre-match buildup and they also offered tickets at 1980s prices for 1988 minutes recently ($10 for adults, $20 for a family and $5 for juniors).
For anyone who missed out on the ticket deal, the chiko roll (Australia's take on the chop suey roll) is due to make a comeback for the match and, along with hot dogs, will be priced at $2.50. As one league commentator said, it's only fair given that's when they were probably made.
3: Game of the week
This weekend is, in theory, one of the easiest for tipsters to pick and, if betting agencies are anything to go by, there should be a number of one-sided contests. The only match involving two teams inside the top eight is tonight's clash between the Broncos (6th) and Rabbitohs (2nd) at Suncorp Stadium. The home team go in on the back of three straight victories but their chances of an upset have been dented by injuries to Justin Hodges and Josh McGuire.
4: Another dog's day
The Bulldogs must be running out of ink with all the players re-signing with the club this week. It started with Greg Eastwood, who followed the advice of his late father to knock back Newcastle, and continued with the signatures of Aidan Tolman on Wednesday and Frank Pritchard yesterday. Pritchard was reported to have accepted a three-year, A$1.6 million ($1.9 million) deal, meaning the Doggies probably spent on three players what the Wests Tigers will on Benji Marshall. The former Kiwis captain is said to be close to tying up an upgraded $4 million contract over five years. The improved contract is a reflection of the increased salary cap and broadcast deal and should lessen the need for Marshall to hock off any more personal stories like his recent wedding video.
5: Tweet tweet
Most professional sportspeople have clauses in their contract relating to social media - when to do it, what sort of content - but few would be as restrictive as the one imposed on Josh Dugan, who is set to sign with the Dragons for the rest of the season. Dugan is said to have an ask first, tweet later clause after his exploits on social media earlier this season convinced the Raiders to tear up his contract and a second outburst ended negotiations on a $2 million deal with the Broncos.
6: Double loss
It has been a tough week for rugby league with the passing of promising New Zealand-born Cowboys hooker Alex Elisala as well as administrator and historian Bernie Wood. Wood is remembered as a dogged, feisty and staunchly parochial individual who fought for all things league and Wellington-related and his contribution was significant. He edited the New Zealand Rugby League Annual for 25 years up until 2002, wrote a number of rugby league and trotting books and last year secured $1.6 million in funding for an all-weather rugby league turf at Ascot Park.