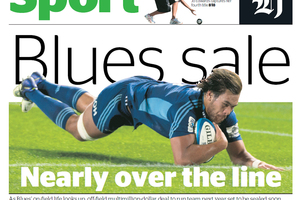 A brief look at the sports stories that are making news this morning.
Blues sale nearly over the line
A syndicate keen on bankrolling and running the Blues hopes the deal will be completed soon, writes Wynne Gray.
What's the deal?
The syndicate plans a multimillion-dollar investment with a new board set up to run the Blues next season amid ideas about creating an enhanced professional set-up.
Rennie weighs up Chiefs' options
It's all change for the Chiefs as they try to rediscover their attacking edge against the Waratahs but a goalkicking replacement for Gareth Anscombe has yet to be settled on.
Plenty of options
Coach Dave Rennie said Aaron Cruden was one option to take up the kicking duties, but so was Andrew Horrell, who will wear the No 15 jersey, and Charlie Ngatai, starting at centre.
Kiwis' prop opts for raw power
Jared Waerea-Hargreaves is one of the most intimidating forces in the NRL and it won't come as any comfort to opposition players to learn he went on a raw meat diet earlier this year.
Biggest loser
Waerea-Hargreaves started preseason at 122kg and dropped to 110kg in just 14 days and, despite an extreme weight loss, felt more energetic afterwards.
Overnight news
Pakistan hopes Davis Cup tie will be restarted
Pakistan hopes to restart its Davis Cup tie against New Zealand in an appeal to the International Tennis Federation against awarding the match to New Zealand this month.
Poor court
Pakistan was up 1-0 and leading the second singles at Yangon, Myanmar, when Sri Lankan referee Ashita Ajigala declared the grass-court unplayable and ruled the Asia-Oceania Group II tie in New Zealand's favour.
Butt, Asif lose appeals against bans
Former captain Salman Butt still believes he can return to international cricket after he and former Pakistan teammate Mohammad Asif lost their appeals against lengthy bans for spot-fixing in a test against England.
I'll be back
Butt will be 30 when his minimum five-year suspension ends, and with Pakistan test and one-day captain Misbah-ul-Haq at 39, Butt believes he can contend again for a place in the national team.
Madrid overtakes Man Utd as most valuable club
Real Madrid has passed Manchester United as the most valuable football team in Forbes' annual estimates.
How much?
Forbes valued Real Madrid at $US3.3 billion, up 76 per cent from last year's estimate of $US1.88 billion.
By the numbers
$59m paid by English soccer clubs in fees to agents in international deals.
28% average commission paid to agents.
706 international transfers, a 19 per cent increase year on year.
Quote of the day
"My belief was always strong and still is. I'm confident we will do it."
Arsene Wenger insists Arsenal remain on course to qualify for the Champions League even though the Gunners' 0-0 draw against Everton left them facing a nerve-wracking end to the season