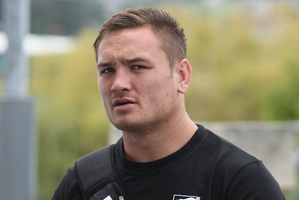 Jared Waerea-Hargreaves is one of the most intimidating forces in the NRL and it won't come as any comfort to opposition players to learn he went on a raw meat diet earlier this year.
The beefed up 24-year-old went on a diet of raw food, including meat, for 14 days earlier this year as part of a detox diet implemented by the Sydney Roosters. Some of his teammates lost too much weight or couldn't cope without a cooked meal, meaning only six completed the course.
Waerea-Hargreaves was one. He started at 122kg and dropped to 110kg in just 14 days and, despite an extreme weight loss, felt more energetic afterwards.
"It was a challenge, a tough challenge," he said. "But I enjoyed it. Mentally I didn't believe I could do it but I stuck at it. A lot of guys didn't have the willpower to do it.
"You can get sick, which everyone [at the Roosters] did after four or five days, but you get through that and you actually feel 1000 times better.
You feel fresh and have a lot more energy."
It prompted a number of quizzical looks, not least of all when he ordered raw food at a restaurant or visited his local butcher and started chowing down on meat straight from the fridge. But it also opened up a number of different options on the menu and a handful of friends, including his partner, also joined him.
"You can actually make nice meals and put a few ideas together, like steak tartare," he said. "I tried not to think of it as food, more as fuel. I never thought I could stomach 10 raw eggs a day. It's pretty insane."
Some opposition players probably think that of Waerea-Hargreaves when he plays. He's regarded as one of the toughest forwards in the game and sometimes that intimidation factor can get him in trouble with the judiciary.
He accepts he can sometimes get too emotional or caught up in the moment and it doesn't match his calm persona off the field but the Kiwis will need his raw aggression against a powerful Australian side in Friday night's Anzac test in Canberra.
The Kiwis go in with a strong four-prop rotation of Waerea-Hargreaves, Ben Matulino, Jesse Bromwich and Sam McKendry, which is one area they might hold an advantage over the Kangaroos.
Australia coach Tim Sheens has opted for just two recognised props in Matt Scott and James Tamou as he goes for a more mobile pack to try to counter the threat of Kiwis hooker Issac Luke out of dummy half but Sam Thaiday and Paul Gallen, who still both bring plenty of brawn, will see time there as well.
The Kiwis are highly motivated to do well - few expect them to pull off an upset - and Waerea-Hargreaves, who has been in terrific form for the Roosters, has added reasons to impress.
He took his omission from the Kiwis side for last October's Townsville test badly and has used it as incentive since.
"I was pretty pissed, actually," he said not mincing his words. "I wrote it down on everything and used it as motivation. I tried to give it my all last year and believe I bleed black. I have done everything I can to get back in that black jumper."
Including, it seems, eating raw meat.
- APNZ