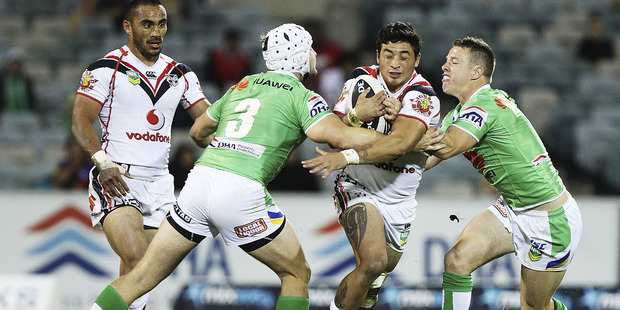 Raiders 20
Warriors 16
They are still the nearly men, the Warriors, but at least they are beginning to look more like themselves.
In true Warriors fashion, they began this match dreadfully - giving away penalties, the ball and field position. The Raiders viewed this gift as they should: ruthlessly. After a wave of attacks, little No7 Sam Williams pivoted from broken play, kicking high to the wing where Sandor Earl fielded and scored amid close attention.
So far, so frustrating, so familiar ... But the Warriors have begun to play with a bit of snap now; that worrying creativity drought seems to have passed.
Now all they have to do is win. They led for most of this game but couldn't withstand a late Raiders surge.
Their passing and play-the-balls were crisp, playmaker Feleti Mateo is coming back into things more, Thomas Leuluai began to nip and tuck through the Raiders' defences and had his best match yet in Warriors' colours.
Kevin Locke is beginning to show traces of speed and elusiveness.
They look as though they are benefitting from having their props rotation (Sam Rapira, Ben Matulino, Russell Packer and Jacob Lillyman back in harness, even though they are not yet quite through their injuries, with Lillyman not on this trip). Matulino and Packer started to get the offloads going in the second half, a welcome sight for Warriors' fans.
Their defence has also picked up, in organisation and commitment.
Oh, and there's The Good Ship Manu - the Warriors' stately galleon cruising nicely over in the corner twice in quick succession after good work lead-up work by Leuluai and Shaun Johnson - and some slick passing to work the space. Vatuvei also gallopped back (not something you always associate with him) to spoil an attack after a raid by Josh Papali'i. This was no gimme. The Warriors have lost nine of their last 10 matches in Canberra Stadium; they haven't won in Canberra since 1997; the Raiders are famously competitive here.
They also found themselves hit by injuries again. Centre Dane Nielsen, newly returned from the sick bay, copped a tackle in the ribs and went off with what is thought to be at least one broken rib and maybe more. With Pita Godinet lost to injury before the match and Elijah Taylor staying at home with rib trouble, the Warriors' infamous problems at centre continued - and their bench had about the depth of the cat's saucer of milk.
The Raiders also had their problems, with big forward and skipper David Shillington injured in a tackle. He limped gingerly off - a development that could threaten his candidacy for a spot in the Kangaroos' pack for Friday's Anzac test.
However, the Raiders also had the considerable fillip of the return of Terry Campese. The veteran playmaker came on after 30 minutes and immediately demonstrated his ability to control the flow and pace of the game.
But this was also Leuluai's time. With the Warriors hot on attack through centre Konrad Hurrell, Leuluai saw the gaps on the far side of the field and hoisted a near-perfect cross-kick for Vatuvei to knock down for Ben Henry.
At 16-4, the Raiders had to score next and 1.96m winger Edrick Lee somehow wrestled through three defenders to score in the corner, not long after Papali'i's surge; Campese playing a controlling hand in the build-up.
It led to a sustained period of pressure and back-to-back sets from the Raiders. Surely the Warriors wouldn't let this slip. Would they? They let Campese slip and the balding back nearly scored himself before Williams slipped over the line after more pressure.
Suddenly it was 16-14 and the 'nearly men' tag loomed again.
Then calamity - Rapira lost the ball on the first tackle in his own 20m zone. Surely this was where it would all go down the gurgler. But they somehow held on. Then Henry lost it early. They held on. Then Sebastine Ikahihifo did the same thing. Five minutes.
And then, yes, they cracked. A Campese kick was fielded and forced in goal by a flying Lee, dwarfing Bill Tupou in the catch.
It was heartbreaking stuff. They are still the nearly men. But they nearly weren't.
Canberra 20 (S. Earl, E. Lee 2, S. Williams tries; J. Croker 2 goals), Warriors 16 (M. Vatuvei 2, B. Henry tries, S. Johnson 2 goals). Halftime: 4-10.