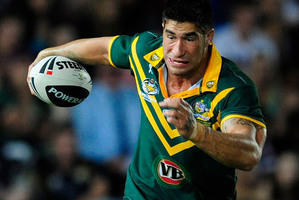 Theoretically, Konrad Hurrell could play for both Tonga and the Kiwis in 2014 but league's governing body are confident that the game's eligibility rules are clear and much tighter in World Cup year.
League has had several eligibility embarrassments and confusions in recent times, with Tonie Carroll's situation often highlighted as the worst. The former Broncos back rower played for Queensland from 1998 to 2007, turned out for the Kiwis at the 2000 World Cup, then played seven tests for Australia in 2004 and 2005.
Then there was the Nathan Fien 'Grannygate' saga and most recently the farcical situation of former Junior Kiwi and New Zealand Maori player James Tamou pulling on the green and gold.
Further afield, Adrian Morley's brother Chris won 13 caps for Wales after telling Welsh officials his grandmother hailed from Swansea when in fact she was born in England.
"It is always a challenge," says Rugby League International Federation chairman Scott Carter. "It's something that every sport struggles with in this age. We recognise that moving between nations is to some degree normal in this day and age and we wouldn't want eligibility rules to stifle the growth of the international game. We are always trying to tighten the screw but we need to strike a balance between what is farce and what is fair."
Steve Matai's switch to Samoa has thrown the rules into the spotlight once again. Matai, along with recent former Kiwi team-mates Roy Asotasi, David Fa'alogo, Jeff Lima and Junior Sa'u, announced recently their intention to play for Samoa at this year's World Cup.
Hurrell is eligible for New Zealand and Tonga and is yet to decide to whom to declare his allegiance. The blockbusting centre would be a certainty for Tonga in their match against Samoa next week (if available) but, even if he played in that game, he would still be able to play for the Kiwis in 2014.
Players like Hurrell who are eligible for more than one nation are allowed one switch during each World Cup cycle, although the reasons must be verified by the federation's executive board.
"He would be able to change in theory," says Carter. "He has yet to play a test match so he would be 'clean' by our standards and still able to make one change in this cycle."
At the end of this World Cup, two other main changes will come into force. One is to clarify when residency has started, after the confusing case of former Kiwi Rangi Chase.
Chase declared his allegiance to England and was given the green light - despite the fact that there was no clarity around when he had started living there.
"Now you must have lived in the country for 36 consecutive months of residence," says Carter. "Residence is further defined as where you have your primary and permanent home. It doesn't mean you can't take a holiday but you must have your primary home in that country. Once you can prove you're genuinely living in a country, that's the start date."
The other major change is that, from 2014, eligibility criteria will apply to junior test matches, ruling out a repeat of the Tamou situation.
"Effective from the end of this World Cup once you have pulled on a Junior Kiwis jersey, for example, you will be deemed to have played for New Zealand," says Carter.
In the past, league World Cups have been a little like the current Prime Minister's memory - infrequent and random. The tournament was held in round robin format between 1985-88 and 1988-92 before single events (of differing impact) were staged from 1995.
Since then, there have been two tournaments (2000 in Great Britain and France and 2008 in Australia) but now the World Cup will be held in entrenched four-year cycles.
"Without any structure to the World Cup cycle, it made eligibility more complicated," says RLIF development officer Tas Baitieri. "Now it should be clearer."
A player is eligible to play for the country of his birth, or any of his parents or grandparents. Eligibility can also be conferred by the residency period of 36 months.
Rugby has similar rules but crucially does not allow a player to represent more than one country.
"You don't want a whole lot of still valuable players - maybe not first pick for Australia, New Zealand or England but still playing great football - in the wilderness and creating a big gap between the top three and the rest," says Carter.
"It makes perfect sense to us that as long as players are genuinely eligible to play for more than one nation - if they are in the beginning or the twilight of their career - then they can play for other nations."