Three-way venture aims to get 1000 players in regular school competition in two years.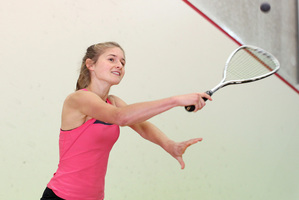 A three-way initiative aimed at finding the next big New Zealand name on the international squash scene by boosting playing numbers of Auckland secondary school boys and girls has been unveiled.
The plan, a joint venture between Squash Auckland, ASB College Sport and Squash New Zealand aims to have 1000 players in regular school competition by 2015.
Last year there were 772 active participants in 164 teams in the College Sport programme but less than 10 per cent were graded junior players, ie belonging to clubs.
"Growing the sport in the Auckland region is our top priority," said Philip Vodanovich, general manager of Squash Auckland.
"The Auckland school's competition is incredibly strong and has national age group champions and runners-up competing from all age groups - under-19, under-17, under-15 and under-13 - including the National Secondary Schools Girls Championship team from Epsom Girls Grammar," he said. "With 28 squash clubs across Auckland, the sport is well positioned to engage with Auckland secondary schools.
"To support the growth of our sport we have formed a College Sport Squash Club for players which will allow us all to engage with schools and the competition's participants at a new level," said Vodanovich. "The Secondary School Club membership will be made up of secondary school players who participate in the competition."
This means secondary school players will be graded on the Squash New Zealand website, with all matches counting towards their grading.
The player grading will also enable keen players to enter tournaments held by clubs.
"We envisage that as the competition grows in stature we will see more school leavers looking to maintain squash as their sport of choice," said Vodanovich. "We all have a part to play in establishing this partnership and the links that clubs forge today will impact on the success of junior growth and development in the sport in the Auckland region moving forward."
Squash clubs are being encouraged to formalise relationships with local schools, opening the club doors to engage with schools, students and parents.
Vodanovich sees the initiative as a two-way plan by removing the barriers for participation in squash within the school environment, as a clear path to grow the sport in the Auckland region, improve on an already successful competition format, encourage school leavers to join clubs and stay in the sport and to develop coaching resources within clubs and schools.
For the clubs it is very much an "up to you" benefit. They will be encouraged to engage with this significant squash community by forming close ties with local secondary schools and identify people who can manage the relationship.
Squash Auckland will assist by encouraging clubs to have junior nights and invite school team members to participate, to get club links on local school websites, ensure school players are aware of tournaments and offer club/secondary school junior memberships.
Clubs will also be encouraged to offer coaching and make facilities available to school teams, hold rules nights and host an end-of-year open day to involve school players.
The College Sport competition begins next term and will continue into term three.
College Sport results
ATHLETICS
NORTH ISLAND SS CHAMPIONSHIPS
(Masterton)
Girls.-
Junior.-
100m: Georgia Hulls (ECN) 12.69s 1, Lauren Henry (WBP) 12.85s 2, Briana Stephenson (ECN) 12.96s 3.
200m: Hulls 26.49s 1, Jade Henley-Smith (WBP) 27.01s 2, Jessica Hood (WBP) 27.07s 3.
300m: Deigna Khamal (WBP) 41.46s 1, Hood 42.45s 2, Stella Pearless (NHB) 43.10s 3.
800m: Pearless 1, Madeline Wilson (WEL) 2, Zia Macdermid (MAN) 3.
1500m: Zia Macdermid 4m 49.13s 1, Madison Rennie (WBP) 4m 49.85s 2, Grace Burmeister (MAN) 4m 54.81s 3.
3000m: Michaela Walker (WEL) 1, Burmeister 2, Georgia Clode (AKL) 3.
4x100m relay: Waikato/Bay of Plenty 51.43s 1, East Coast North Island 52.23s 2, Wellington 53.41s 3.
70m hurdles: Amy Robertson (NHB) 11.82s 1, Kodi Barlow (AKL) 11.87s 2, Malia Longopoa (AKL) 12.12s 3.
Long jump: Lauren Henry (WBP) 5.12m 1, Briana Stephenson (ECN) 5.03m 2, Jamie Speer (AKL) 4.84m 3.
High jump: Stephenson 1.54m 1, Henry 1.48m 2, Jessica Pease (WAN) 1.48m 3.
Triple jump: Nina Hearn (MAN) 10.20m 1, Paige Witehira (AKL) 9.89m 2, Jacqueline Hand (AKL) 9.65m 3.
Shot put: Grace Lui (AKL) 12.58m 1, Tatiana Kaumoana (WBP) 11.65m 2, Rebecca Toimata (WEL) 11.43m 3.
Javelin throw: Lui 30.72m 1, Marina Beazley (WBP) 27.39m 2, Lucy Cooper (WEL) 27.14m 3.
Hammer throw: Terrelle Oneosemo (WEL) 30.86m 1, Kaumoana 23.26m 2

Intermediate.-
100m: Zoe Hobbs (TAR) 12.30s 1, Brooke Somerfield (WBP) 12.60s 2, Dionne Treadaway (WBP) 12.86s 3.
200m: Hobbs (TAR) 25.11s 1, Treadaway 25.92s 2, Nicole Robertson (AKL) 26.01s 3.
400m: Megan Kikuchi (AKL) 57.73s 1, Celine Pearn (AKL) 59.83s 2, Jessica Bitcheno (WBP) 60.33s 3.
800m: Lucy Jacobs (NHB) 2m 12.58s 1, Ariana Lord (WBP) 2m 13.76s 2, Samantha Baldwin (NHB) 2m 16.16s 3.
1500m: Lord 4m 41.72s 1, Paige Satchell (WBP) 4m 44.01s 2, Amanda Still (NTH) 4m 44.44s 3.
3000m: Madeleine Roughan (TAR) 10m 15.29s 1, Satchell 10m 15.73s 2; Alana Sherman (AKL) 10m 16.41s 3.
4x100m relay: Waikato/Bay of Plenty 50.84s 1, Auckland 50.77s 2, East Coast North Island 51.25s 3.
Long jump: Hobbs (TAR) 5.59m 1m Natasha Eady (AKL) 5.21m 2, Brooke Somerfield (WBP) 5.15m 3.
High jump: Phoebe Edwards (WEL) 1.58m 1, Tessa Eyre (WEL) 1.55m 2, Charlotte Hunter (AKL) 1.50m 3.
Triple jump: Hobbs 11.12m 1, Meg Skilton (WBP) 10.47m 2, Grace White (TAR) 10.44m 3.
Shot put: Ofa Hakeai (AKL) 13.65m 1, Diana Oloapu (WEL) 12.77m 2, Mauga Feagaiga-Fagasa (CMA) 12.70m 3.
Discus throw: Brooke Urquhart (AKL) 42.30m 1, Hakeai 39.69m 2, MacKenzie Vitasovich (NHB) 34.54m 3.
Javelin throw: Emma Fulbrook (WEL) 41.56m 1, Urquhart 34.39m 2, Emma Parker (WBP) 32.46m 3.
Hammer throw: Emma Kruszona (WAR) 48.30m 1, Vitasovich 40.16m 2, Losaline Ahio (WBP) 36.42m 3.

Senior.-
100m: Amy Robinson (WBP) 12.37s 1, Abby Goldie (WBP) 12.37s 2, Nicola McDonnell-Kelly (NTH) 12.67s 3.
200m: Robyn Engels (WBP) 25.90s 1, Courtney Wheeler (WEL) 26.40s 2, Rebeka Kiwara (WEL) 26.62s 3.
400m: Talia Horgan (WBP) 58.33s 1, Holly Manning (ECN) 58.86s 2, Megan Bethell (WBP) 61.6s 3.
800m: Manning 2m 15.50s 1, Bridget Kiddle (WEL) 2m 18.94s 2, Aneila Mellish (TAR) 2m 20.68s 3.
1500m: Audrey Gregan (AKL) 4m 45.30s 1, Jean Kozyniak (WEL) 4m 48.31s 2, Anneke Smith (ECN) 4m 50.22s 3.
3000m: Gregan 10m 01.83s 1, Kozyniak 10m 14.86s 2, Anneke Grogan (WBP) 10m 38.20s 3.
Open 4x400m relay: North Harbour 3m 54.78s 1, Waikato/Bay of Plenty 3m 55.74s 2, East Coast North Island 3m 58.25s 3.
100m hurdles: Mikaela Jeffersen (WBP) 14.89s 1, Robinson 15.21s 2, Kate Plimmer (WAR) 15.48s 3.
Open 2000m track walk: Deanna Moratti (TAR) 11m 16.01s 1, Renee Moratti (TAR) 11m 38.34s 2, Estelle Schuler (WBP) 12m 28.19s 3.
Open 2000m steeplechase: Grogan 7m 21.19s 1, Kiddle 7m 28.36s 2, Mary Bollen (WBP) 7m 36.78s 3.
Long jump: Robinson 5.67m 1, Kate Plimmer (WAR) 5.46m 2, Jade Fern (TAR) 5.13m 3.
Triple jump: Anna Thomson (WEL) 11.67m 1, Millie McCaughan (AKL) 11.01m 2, Aprille Mincher (WEL) 10.82m 3.
High jump: Sarah McDonald (WAN) 1.60m 1, Valerie Chan (WEL) 1.55m 2, Laura Heibner (TAR) and Lucy Garner (WEL) 1.55m equal 3.
Open pole vault: Eliza McCartney (NHB) 3.90m 1, Chan 3.10m 2, Hannah Lunday (NHB) 3.00m 3.
Shot put: Ofa Hakeai (AKL) 12.50m 1, Harii Kiriau (CMA) 11.94m 2, Katie Smith (WAR) 11.73m 3.
Discus throw: Ella Pilkington (NHB) 36.86m 1, Machaela Tepai (AKL) 35.44m 2, Harii Kiriau (CMA) 34.96m 3.
Javelin throw: Amy Cockayne (MAN) 34.92m 1, Montaya Wharehinga (WEL) 33.51m 2, Kiriau 29.08m 3.
Hammer throw: Wharehinga 48.32m 1, Pilkington 45.15m 2, Josephine Surridge (WAR) 22.16m 3.

Athletes with disability.-
AWD ID.-
200m: Mary Brown (WEL) 36.62s 1.
Long jump: Teweia Matita (WEL) 2.79m 1, Courtney Preston (WEL) 2.30m 2, Michaela Hargreaves (WEL) 2.17m 3.
Shot put: Patosina Mau'u (WEL) 6.63m 1, Heather Reid (MAN) 6.57m 2, Hargreaves 5.36m 3.
Javelin throw: Mau'u 12.76M 1.


Boys.-
Junior.-
100m: Nicholas Smith (WEL) 11.79s 1, Finn Neely (WEL) 12.21s 2, Aidan Smith (MAN) 12.21s 3.
200m: Smith 24.33s 1, George Fitzsimons (AKL) 25.04s 2, Neely 25.04s 3.
300m: Ryan Ballantyne (WBP) 38.21s 1, Islam Khaled-Abbas (WEL) 38.35s 2, Oliver Miller (AKL) 38.47s 3.
800m: Flynn Palmer (CMA) 2m 05.91s 1, Max Press (WEL) 2m 06.27s 2, Isaiah Priddey (WBP) 2m 07.75s 3.
1500m: Palmer 4m 17.86s 1, Press 4m 19.48s 2, Priddey 4m 20..50s 3.
3000m: Bradley Christison (ECN) 9m 25.57s 1, Joel Carman (WEL) 9m 45.81s 2, James Uhlenberg (AKL) 9m 46.64s 3.
4x100m relay: Wellington 47.77s 1, North Harbour 47.86s 2, Waikato/Bay of Plenty 48.04s 3.
Long jump: Zane Edwards (WEL) 5.71m 1, Eduard Korent (WEL) 5.53m 2, Logan Himiona (NTH) 5.50m 3.
Triple jump: Himiona (NTH) 11.68m 1, Callum Douglas (AKL) 11.53m 2, Tevita Finau (WBP) 11.30m 3.
High jump: Angus Baker (WEL) 1.74m 1, Korent 1.71m 2, Oliver Miller (AKL) 1.71m 3.
Shot put: Samson Aruwa (AKL) 14.45m 1, Ryan Ballantyne (WBP) 14.14m 2, Luke Hardy (WBP) 12.64m 3.
Discus throw: Metuaiviivitoa Herman (AKL) 46.43m 1, Ballantyne 44.50m 2, Meinrad Fitisemanu (WEL) 42.31m 3.
Javelin throw: Max Press (WEL) 42.96m 1, Harlem Siloata (WEL) 36.26m 2, Anthony Marsh (MAN) 35.42m 3.
Hammer throw: Anthony Nobilo (NHB) 43.32m 1.

Intermediate.-
100m: Hamish Gill (NHB) 11.22s 1, Brett Farrell (AKL) 11..28s 2, Martin White (AKL) 11.47s 3.
200m: Gill 22.65s 1, Josh Ledger (WEL) 22.90s 2, Farrell 23.04s 3.
400m: Ledger 49.86s 1, Javon McCallum (TAR) 50.27s 2, Paddy Kellow (MAN) 51.58s 3.
800m: Michael Dawson (AKL) 1m 56.46s 1, Daniel Hintz (WBP) 1m 58.59s 2, Guy Kilmister (AKL) 2m 00..10s 3.
1500m: Hintz 4m 07.80s 1, Dawson 4m 11.62s 2; Tom Caughley (WEL) 4m 12.10s 3.
3000m: Leon Falvey (WEL) 9m 03.59s 1, Christian Leopard (ECN) 9m 03.82s 2, Michael Voss (WBP) 9m 06.27s 3.
4x100m relay: Auckland 45.55s 1, Manawatu 45.72s 2, East Coast North Island 46.69s 3.
100m hurdles: Niven Longopoa (AKL) 13.75s 1, Kilian Segers (AKL) 14.03s 2, Campbell Milward (WBP) 14.08s 3.
Long jump: Longopoa 6.49m 1, Gill 6.40m 2, White 6.23m 3.
Triple jump: Nathan Dicken (WEL) 12.86m 1, David Van Den Bogaard (CMA) 12.85m 2, Tyro Hewett (WBP) 12.82m 3.
High jump: Liam Speer (AKL) 1.88m 1, Scott Liefting (CMA) 1.83m 2, Harrison Meads (TAR) 1.75m 3.
Shot put: Ben Power (WEL) 15.65m 1, Alexander O'Neill (NHB) 14.55m 2, Denny To'o (WEL) 13.75m 3.
Discus throw: Power 52.09m 1, Sheldon Tovio (AKL) 49.77m 2, Michael McDonald (TAR) 48.78m 3.
Javelin throw: Nathan Moen (WEL) 51.59m 1, Alex Kulhmann (MAN) 50.63m 2, Damien Wilson (MAN) 46.24m 3.
Hammer throw: O'Neill 44.41m 1, Power 41.32m 2.

Senior.-
100m: William Smart (WAN) 10.99s 1, Tom Smith (WBP) 11.11s 2, Olly Ranby (WBP) 11.14s 3.
200m: Ranby 22.54s 1, Bailey Stewart (AKL) 22.62s 2, Smith 22.74s 3.
400m: Stewart 49.24s 1, Matthew Connolly (WBP) 49.83s 2, Jayden Boylan (WBP) 51.39s 3.
800m: Thomas Monnery (AKL) 1m 53.04s 1, Rhys Bishop (TAR) 1m 53.90s 2, Alex Beddoes (AKL) 1m 54.65s 3.
1500m: Jacob Priddey (WBP) 3m 59.04s 1, Geordie Beamish (WAN) 3m 59..08s 2, Bishop 3m 59.52s 3.
3000m: Beamish 1, Priddey 2, Marcus Karamanolis (WEL) 3.
4x100m relay: Waikato/Bay of Plenty 44.47s 1, Wanganui 44.98s 2, Auckland 45.06s 3.
Open 4x400m relay: Waikato/Bay of Plenty 3m 23.37s 1, Auckland 3m 26.60s 2, Manawatu 3m 30..26s 3.
110m hurdles: Pascal Kethers (NHB) 15.11s 1, Luca Denee (NHB) 15.81s 2, Charlie McCartin (WAN) 15.91s 3.
Open 300m hurdles: Kethers 40.36s 1, Quinn Hartley (MAN) 40.67s 2, Damien Scott (ECN) 41.65s 3.
Open 2000m steeplechase: Tim Robertson (WEL) 6m 20.63s 1, Connor Gyde (WBP) 6m 27.04s 2, Leo Roper (CMA) 6m 34.58s 3.
Open 3000m track walk: Stuart Hood (WEL) 14m 59.26s 1, Fraser Samson (WEL) 17m 36.39s 2.
Long jump: Liam Carr (MAN) 6.53m 1, Mason Emerson (ECN) 6.48m 2, Jordan Clark (MAN) 6.48m 3.
Triple jump: Conor Crowe (WBP) 13.47m 1, Caleb Bensemann (WAN) 12.89m 2, Matthew Codd (TAR) 12.68m 3.
High jump: Hamish Kerr (AKL) 1.93m 1, Sam Pinson (WEL) 1.93m 2, Cory McDermott (AKL) 1.90m 3.
Open pole vault: Kethers 4.85m 1, Matt Campbell (NHB) 4.00m 2, Rizvan Caukwell (NHB) 3.10m 3.
Shot put: Matthew Bloxham (NHB) 18.41m 1, Kyle van der Merwe (TAR) 17.76m 2, Sam Ulufonua (AKL) 17.35m 3.
Discus throw: van der Merwe 57.61m 1, Ulufonua 55.01m 2,Bloxham 49.46m 3.
Javelin throw: Taylor Matthews (AKL) 58.67m 1, Callum Hardie (ECN) 55.77m 2, Alex Wood (WBP) 52.60m 3.
Hammer throw: Bloxham 69.91m 1, Tom Quinn (WAR) 50.15m 2, Sam Donald (WAN) 38.26m 3.

Athletes with disability.
AWD AMP/other.-
100m: Jono Brownjohn (TAR) 13.87s 1.
Long jump: Brownjohn (TAR) 4.90m 1.
High jump: Brownjohn (TAR) 1.73m 1.
Discus throw: Troy Hill (WBP) 17.81m 1.
AWD VI.-
100m: Dominic Faherty (WEL) 20.69s 1.
200m: Faherty 42.80s 1.
AWD CP.-
100m: Richard Nelson-Parker (AKL) 13.98s 1, Jacob Phillips (WBP) 15.50s 2, Cameron Holland (MAN) 18.64s 3.
200m: Nelson-Parker 29.29s 1, Holland 39.90s 2, Carl Drylie (MAN) 42.17s 3.
Long jump: Holland 2.76m 1.
Shot put: Holland 7.31m 1, Drylie 4.42m 2.
Discus throw: Phillips 27.55m 1, Drylie 11.83m 2.
Javelin throw: Phillips 18.11m 1.
AWD ID.-
200m: Cameron Blackett (WBP) 26.51s 1, Luke Hewitt (WBP) 27..41s 2, Keelan Ward (WAR) 30.19s 3.
400m: David Smith (WBP) 59.94s 1, Hewitt 61.41s 2, Ben Oglivie (WEL) 67,23s 3.
Long jump: Smith (WBP) 4.40m 1, Isaac Malaulau (WEL) 3.97m 2, Matthew Westwood (MAN) 3.61m 3.
Shot put: Jack Lewer (MAN) 9.94m 1, Oglivie 9.49m 2, Bronson Williams-Elliot (WEL) 8.37m 3.
Discus throw: Lewer 25.52m 1, Kieran Bray (WEL) 18.70m 2, Spencer Kirk (WBP) 16.01m 3.
Javelin throw: Williams-Elliot 17.74m 1, Lewer 12.33m 2, Bray 11.70m 3.

The following broke or set (in new events) records.-

Bradley Christison, junior boys 3000m 9m 25.57s (9m 30.42s).
Amy Robinson, open girls 300m hurdles 42.59s (42.97s).
Eliza McCartney , open girls pole vault 3.90m (3.80m).
Pascal Kethers, open boys pole vault 4.85m (4.80m).
Matthew Bloxham, senior boys shot put 18.41m (18.01m).
Bloxham, senior boys hammer 69.91m (66.42m).
Kyle Van der Merwe, senior boys discus 57.61m (56.64m.
Emma Fullbrook, intermediate girls javelin 41.56m (39.90m).
Alexander O'Neil, intermediate boys hammer 44.41m (new event).
Anthony Nobilo, junior boys hammer 43.32m (new event).
Terrelle Oneosemo, junior girls hammer 30.86m (new event).
Emma Kruszona, intermediate girls hammer 48.30m (new event).
Jono Brownjohn, AWD AMP/O 100m 13.87s (new event).
Brownjohn, AWD AMP/O high jump 1.73m (new event).
Brownjohn, AWD AMP/O long jump 4.90m (4.70m).
Dominic Faherty, AWD VI 100m 20.69s (new event).
Faherty, AWD VI 200m 42.80s (new event).
Cameron Holland, AWD CP long jump 2.76m (new event).
Teweia Matita, AWD IDF long jump 2.79m (new event).
Patosina Mau'u, AWD ID F shot put 6.63m (5.90m).
Jack Lewer, AWD ID shot put 9.94m (9.31m).
Troy Hill, AWD AMP/O discus 17.81m (new event).
Jacob Phillips, AWD CP discus 27.55m (27.32m).
Phillips, AWD CP javelin 18.11m (new event).


GOLF
Auckland/North Harbour premier, semifinals: WBHS 212 St Kentigern 220; AGS 224 Wentworth College 239. Final: WBHS v AGS, date/venue term two tba.

MOUNTAIN BIKING
(Sanders Reserve, Paremoremo)
Junior girls: Jessica Manchester (Howick) 1, Isobel Welsford-Ackroyd (MAGS) 2, Zoe Jane Callesen (EGGS) 3.
Junior boys: Jake Craggs (AGS) 1, Jayden Fleming (Glendowie) 2, Liam Bethell (Michael Park School) 3.
Intermediate girls: Kayla Russell (Howick) 1, Emma Simcock-Smith (Diocesan) 2, Gabrielle Wright (Diocesan) 3.
Intermediate boys: Aaron Carr (Howick) 1, Robin Page (Pinehurst) 2, Jason Callesen (AGS) 3.
Senior girls: Harriet Beaven (Parnell College) 1, Charlotte Rayner (Howick) 2, Sarah Russell (Howick) 3.
Senior boys: Cosmo Bloor (AGS) 1, Elliot Wright (AGS) 2, Tom Coombes (Massey HS) 3.

WATER POLO
SENIOR/PREMIER
Premier boys: MAGS 23 Northcote 5. St Kentigern 8 Kings 3; Kristin 11 AGS 2 2; WBHS 11 AGS 1 10; Sacred Heart 6 Rangitoto 4.
Premier girls: Rangitoto 1 15 Kristin 8. Rangitoto 1 12 WGHS 3; TGS 11 Rangitoto 2 9.
Senior B boys, division one, pool A: Kings B1 5 AGS Blue 5.
Senior B girls, division one, pool H: Avondale 3 Marist 3; Diocesan 2 Western Springs 0. Pool I: Carmel 16 Selwyn 1; WGHS Girls 6 EGGS 0; Kings 9 Green Bay 0; Macleans 6 Strathallan 5.
Senior B boys, division two, Central East: AGS Gold 13 Kings B2 3; Macleans 6 Senior College Of New Zealand Auckland Girls 5; Botany Downs default to Strathallan. Sacred Heart Blue 6 Parnell 3; Kings Jnr A 7 Glendowie 4.
Senior B boys, division two, North Western: Lynfield 8 Liston 4; Massey 8 Birkenhead 1. Avondale 7 St Peters B 6; Rutherford 12 MAGS 2; MRGS Red 7 Waitakere 6; Albany Senior High 3 MRGS Blue 2.
Senior B boys, division one: Sacred Heart Red 10 TGS 4; St Peters 5 Rangitoto 4; Green Bay 3 Western Springs 2; Long Bay 5 AGS 4; WBHS 4 Kings 2; Rosmini 6 St Kentigern 3.

JUNIOR ONE-DAY TOURNAMENT
Junior B, Pool A: AGS C 12 Kings 0; Lynfield 6 Parnell 1 3; AGS B 10 Sacred Heart 5; St Kentigern Strathallan 0. St Kentigern 7 Parnell 1 2; AGS B 6 Lynfield 3; AGS C 5 Strathallan 0; Glendowie 14 Kings 2. Lynfield 5 Strathallan 0; Kings 8 Parnell 1 5; AGS B 7 Glendowie 3; AGS C 5 Sacred Heart 3.
Junior B, pool B: WBHS 12 MAGS 6; Macleans 9 Rutherford 6. MAGS 8 Macleans 5; TGS 8 Rutherford 4; St Peters A 12 Massey 0; WBHS 17 St Peters B 2; Long Bay 11 5. Long Bay 6 WBHS 5; Macleans 5 St Peters B 3; TGS 13 Massey 3; St Peters A 8 MAGS 2.
Junior A, girls: Baradene 8 MAGS 7; Diocesan 4 EGGS 2; WGHS Girls 6 St Marys 5; St Cuthberts 14 Long Bay 0. St Cuthberts 8 Diocesan 0; EGGS 14 MAGS 1; St Marys 3 Baradene 3; WGHS 8 Long Bay 7. EGGS 4 St Marys 3; St Cuthberts 17 MAGS 4; WGHS 10 Diocesan 5.
Junior B, girls: Carmel 11 St Marys B 2; Carmel 9 St Cuthberts 1; Marist 9 Diocesan 2. Green Bay 8 EGGS 1; Glendowie 6 Marist 4; St Cuthberts 4 Diocesan 2.