Veteran South African boxer rates NZ youngster a far better prospect than Sonny Bill.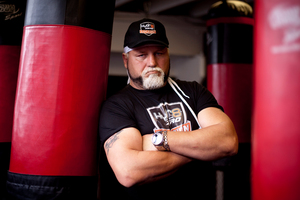 Francois Botha has been in the sport too long to be unduly concerned about the Sonny Bill Williams' fight debacle in February.
Accusations of sharp practice, failed drugs tests and attempted bribes after Williams' controversial victory in Brisbane have barely made a dent in his affection for the fight game. Indeed, once he hangs up his gloves - probably next year after fighting promising New Zealander Joseph Parker in Auckland in June and Williams, possibly, in December - the 44-year-old will fight once more before calling it quits to take on a promotional role for boxing in Africa and to spend time with son Marcel.
Marcel is a 22-year-old junior middleweight who will make his professional boxing debut on the Parker v Botha undercard. The younger Botha's ring name is "Mayhem".
"There's going to be mayhem when he gets in the ring, because he's good," said the man who calls himself the White Buffalo and who is one of the sport's characters.
On a promotional stop in Auckland before the Parker fight, sponsored by Hydr8 Zero Explosion, Durban-based South African Botha said he respected the 21-year-old South Aucklander, who he said was a better fighter than New Zealand heavyweight champion Williams.
"He's a much better fighter than Sonny Bill which is why I've got to be in better shape. I don't underestimate Joseph.
"I know he's got a lot to win by fighting me so he'll make sure he's ready and the Buffalo will make sure he's ready."
Of Williams, who he had in serious trouble in Brisbane before the fight was stopped after 10 rounds rather than the advertised 12, Botha said it was "very unlikely" a re-match would happen because the Sydney Roosters player would have too much to lose.
The man who has fought, and lost to, some of the biggest names in the sport over the past 20 years, including Evander Holyfield, Mike Tyson, Lennox Lewis and Vladimir Kitchsko, said having the right mentality was the key to his durability.
"Boxing is not being tough. It's a skill, it's hitting someone without being hit. It's not being tough and saying 'I can take a punch'."
Duco Events promoter David Higgins said experience was why Botha was selected to fight Parker. "It's a huge step up for Joseph ..."
- APNZ