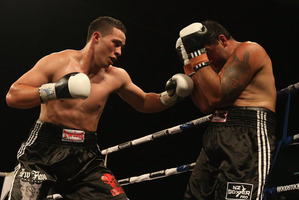 Heavyweight boxer Francois Botha says he is coming to New Zealand to "retire" promising young New Zealand fighter Joseph Parker - a tasty appetiser, he says, to the main course of a rematch against Sonny Bill Williams in December.
Botha, due in New Zealand today and who will appear at a press conference tomorrow, will fight Parker in Auckland on Thursday, June 13, and surprised by saying he rates Parker far above Williams as a boxer.
"I think he [Parker] is a much better boxer than Sonny Bill. I've seen him spar and watched tapes of his first fights. He is quicker, he has better hands, more skill and he's had a good amateur career. But he's another promising young fighter - and I have retired lots of them."
Botha is the 44-year-old with the lengthy heavyweight CV who fought Williams in Brisbane in February - losing on points in a farcical fight mysteriously shortened from 12 to 10 rounds. Some pointed fingers at Khoder Nasser, Williams' manager, and the bout was surrounded by virtually all the controversies that can assail a boxing match - allegations of bribery, a positive drugs test and vehement disagreement over the agreed length of a bout which Botha seemed likely to win against a groggy Sonny Bill, had the fight gone to its scheduled 12 rounds.
The result clearly still rankles Botha who says he is keen to remove the stain on his boxing record.
"I haven't signed anything yet," said Botha from South Africa on Friday night, "but negotiations are continuing and they are aiming the [Williams] fight at December in South Africa.
"They [Williams' connections] didn't want me to fight anyone else in the meantime but, man, I can't do that. I need to fight - and what do I do if Sonny Bill doesn't show because he's bruised his shoulder playing league or something?"
Williams held on to win on points in Brisbane as Botha came on strong in the last round, seeming to have Williams out on his feet before the final bell intervened. Nothing ever happened over the various allegations. The fight was held in a Brisbane venue. Queensland notoriously has no boxing commission with any weight or teeth. The allegations made in the media simply disappeared.
"No matter what anyone says, we always thought that fight was over 12 rounds and it wasn't until the fight had begun, until the late rounds, that we heard it was being shortened. I was playing a longer game, man," says Botha.
"People asked why I didn't attack him earlier but our game plan was to take him into the deep waters he'd never been in and then deal to him.
"Anyone who looks at the tape can tell how surprised I was and how I picked up the intensity when we learned that the fight had been shortened."
However, Botha knows he has a job to do with Parker first. Duco Events' David Higgins and partner Dean Lonergan have put up a combined purse that reaches into the six figure bracket for Botha to face the 21-year-old Parker who turned professional last year. It was a match-up that brought its own controversy.
Parker's then manager - well-known boxing aficionado Sir Bob Jones - stormed out of the association. He felt the controversy involving Botha was not a suitable environment in which to introduce his young fighter. Parker is now managed by Bruce Sharrock, who also represents several leading rugby players.
It will be held at an as yet unspecified venue in Auckland and will be called the 'Hydr8 Zero Explosion' - Hydr8 Zero being a Kiwi-based, entrant to that market involving one of the men behind the success of New Zealand vodka company 42 Below, Shane McKillen.
It is the first step into the big time for Parker, whose raw talent has often been praised. His first four bouts were all against unknowns, all won by TKO. He is set to fight another unknown, Australian debutant Marc Adrian, in a bout in Melbourne on April 28. Botha has been in the ring with many of heavyweight boxing's big names and once had to endure Mike Tyson trying to break his arm. He has also fought the great Lennox Lewis, Evander Holyfield and Wladimir Klitschko - losing to all but still fashioning a reputation as a durable and credible heavyweight.
Whether that credibility is still intact will be judged after this fight, although Higgins says he feels Parker will knock out the South African.
"This is a big step up for Joseph, we all know that," said Higgins. "But it's certain that Botha won't be as fit, as young, as prepared or as fast as Joseph. We know about Botha's durability and he may try to rattle the relatively inexperienced fighter.
"We have to give Botha some credit - it's clear he was robbed in that fight against Williams and that if it had gone the two rounds it was supposed to have, he would have won it. I think that fight should be erased from Botha's record. The whole thing seems to have been swept under the carpet and I have no doubt Botha harbours some resentment and anger."
Meanwhile, Higgins would like everyone to know that the heavyweight bout between Parker and Botha will be eight rounds. Not 12, not 10 and not shortened or lengthened. Eight.
And Khoder Nasser won't be there. Unless he buys a ticket.