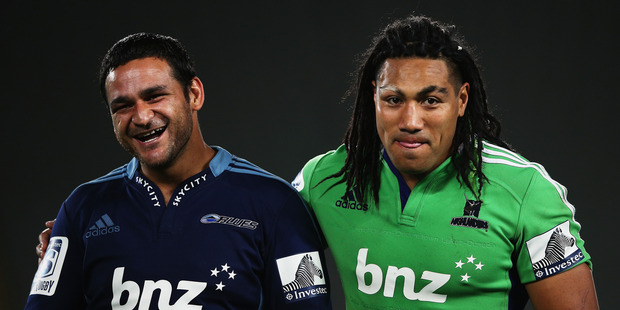 'Hey, Nonu," yelled a heckler at Eden Park on Friday night. "Don't worry, you can always change franchises ... ".
Sport has plenty of examples of injustice but, for many at Eden Park on Friday night, the sight of Ma'a Nonu having a horrible "homecoming" was justice aplenty.
Auckland rugby fans are generally slow to rouse to anger (apathetic, say the rest of the country ... ) but the Nonu saga - where Blues coach Sir John Kirwan said Nonu told him he'd be staying at the Blues, shook hands on the matter, then promptly signed for the Highlanders - had a smell which lingered longer than peak hour traffic on the Southern Motorway.
That came on the back of his highly publicised fall-out with Hurricanes coach Mark Hammett and his shift to the Blues, sabbatical in Japan and return to New Zealand rugby after too long playing the game without a break (and form to match). Nonu has a reputation as an often difficult cuss and, a popular figure when playing for the All Blacks, his Super Rugby persona is very much Hyde to his All Black Jekyll.
In Friday's 29-18 loss to the Blues, Nonu was a central figure and, to the pleasure of many watching Blues fans, not in a good way.
When he was off the field for a yellow card for an ugly shoulder charge on old mate Piri Weepu, the Blues scored 12 points from two tries.
More, they righted themselves, taking charge of the game (for a time anyway) and coming back from 10-0 down after the first 10 minutes. But it didn't end there.
This is by no means a full list but suffices to explain Nonu's night:
• He dropped the ball when in full flight close to the line early in the second half.
• He was stripped by Blues first-five Chris Noakes - one of that team's poorest defenders - as the Highlanders pressed hard.
• He gave away a key penalty when the southerners were stretching the Blues defence thin in the second half.
• He was hot on attack in the Blues 22, with the game still in the balance, when he decided to put through a little dink of a kick.
The last does not sound much of a sin - though many good rugby judges pull out their hair at the sight of such good backs failing to keep the ball in hand in a prime attacking position - until Rene Ranger got involved. Ranger read Nonu's intent and ducked inside to field the ball. He set in motion the sweeping Blues move that ended 90m downfield with Weepu scoring the second of his two tries and sealing the game - scoring from an offload from Ranger who started and finished the move from Nonu's error.
Nonu has a bit of a job to do on his image. The hair, the mascara and the hip attitude all seemed cute to begin with but have worn thin with many who see virtually anything he does these days as an example of arrogance or smart-arsedness.
Nonu went on national television this week, saying the opprobrium from those who criticised him for changing franchises and his subsequent misfortune - he has been called the poisoned chalice of Super Rugby as, everywhere he goes, his teams start losing - had begun to affect him and his family.
Fair enough. Maybe it's time to help rehabilitate him; help him to a position where he does not pull off mad-headed things like the no-arms charge that flattened Weepu on Friday night.
Remarkably, referee Steve Walsh - pretty in pink - was not about to punish Nonu until an assistant referee intervened and he was able to watch it on the big screen while the crowd booed.
Thousands of Aucklanders would have lined up to testify that Nonu had intent written all over his face. Compare that to the high tackle by Blues winger George Moala - sin-binned and suspended for a week for laying out tricky Highlanders back Buxton Popoali'i.
Moala was a touch unlucky - Popoali'i is a short man, he crouched as he fielded the kick and Moala paid the justified price for a high tackle, if there seemed no intent to injure. Popoali'i left the ground on a stretcher but had no neck or spine injuries.
It's pushing it to describe a yellow card as good luck but Nonu could easily have been red-carded and also cited - so maybe this will herald a turn of fortunes for the All Black midfielder.
Certainly his relationship with Weepu seems unimpaired. The Blues halfback tweeted after the match, along with a photograph showing them laughing together: "Then after the game we brothers again ... No brothers on the field! That's how the cookie crumbles!!"