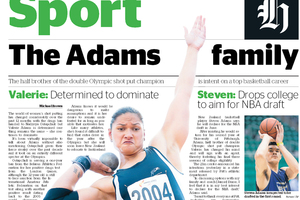 A brief look at the sports stories that are making news this morning.
In the paper
The Adams family: Olympic gold, NBA draft
The Herald leads with the sister-brother duo of Valerie and Steven Adams who continue to standout in their respective sports. After winning back-to-back golds and rival Nadzeya Ostapchuk unlikely to compete again, Valerie is eying total dominance in women's spot put. Steven meanwhile could be playing against some of the biggest names in world sport next season after declaring for the NBA draft.
What next?
Valerie's season will open with June's diamond league event in Eugene, Oregon with the main focus on August's world championships in Moscow. June 27 is draft day where Steven will find out where his basketball future lies.
Willison has Nonu firmly in his sights
The Blues are on high alert about turncoat Ma'a Nonu, but have not shied away from picking Jackson Willison for his first start against the All Blacks midfielder.
He said it:
"They can't win a trick and I don't want them to win one this Friday either so that's the nature of this tournament," Blues coach Sir John Kirwan.
Unfinished business bugs yachties
There's a sense of frustration in the Team New Zealand camp as they begin packing up their boat today knowing they haven't got as much out of their second period of testing in Auckland as they had hoped. Since launching their second boat nearly two months ago, they have only managed to get in 19 days of sailing.
What now?
From today Team NZ will begin the process of packing up their boat and shipping it off to San Francisco, where they will complete their America's Cup preparations. It all kicks off with the Louis Vuitton Cup on July 7.
Overnight news
Pistorius keen to return to track
Murder accused Oscar Pistorius wants to train again and recently went back to visit his regular track in South Africa's capital, the double-amputee athlete's agent said.
What this means:
Pistorius says he would only consider going to the world championships in Moscow in August if he was in the right shape to run at the top level again.
Gallen says he'll go nude if Sharks lose
Parramatta coach Ricky Stuart will make Sharks skipper Paul Gallen stick to a promise and walk down The Kingsway in Cronulla naked if the beleaguered Eels can beat his team this weekend.
What this means:
A league player getting naked in public. Nothing new.
Kolkata win opener
The Kolkata Knight Riders won the opening match of the Indian Premier League beating the Delhi Daredevils by six wickets this morning. No New Zealanders took part in the match.
What's the story?
We'll have limited coverage of the IPL with our content provider AP suspendeding their coverage due to IPL organisers barring photographic agencies. Instead why not read our report of that fantastic final day of the Eden Park test.
Meanwhile somewhere in Slovakia...
Slovaks have been pinching the bottoms of strangers this week in solidarity with cyclist compatriot Peter Sagan, embroiled in a sexism row for pinching the bottom of a podium girl after the Tour of Flanders.
Coming up
Live scoring of the Champions League quarterfinals first leg action as Malaga host Borussia Dortmund and Real Madrid play Galatasaray from 7.45am.
Gregor Paul's Super 15 power rankings after midday.
By the numbers:
3086 total sixes in IPL history - one every 24 balls.
95th minute, when Paris St-Germain equalised against Barcelona in their Champions League quarter-final.
26 batters whisked out by Texas Rangers pitcher Yu Darvish before he conceded a hit, finishing just one out from a rare perfect game.
Quote of the day:
"From what I understand, there's a lot of espionage in the sport."
All Black coach Steve Hansen tries to get his head around the America's Cup
- nzherald.co.nz