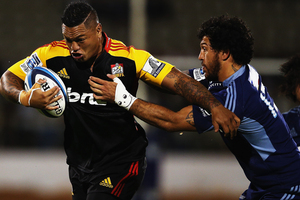 CHIEFS 23
BLUES 16
The beauty of the Chiefs these days is that they can play with all the patience of an Irish builder - remain willing to string the job out for as long as it takes to get it done.
The quality and workmanship from the Chiefs is thankfully higher quality, the sort of stuff that will see them push on to the final stages of this competition. They have too much confidence, too much ability, too much understanding and probably most critically, too much depth.
For all their defensive endeavour and attacking flair tonight, perhaps the most impressive sights came in the flow of traffic off their bench. Ben Afeaki limped off before half-time and on trundled Ben Tameifuna. The scrum, from an already impressive point, stiffened again, while it was Tameifuna who scored the opening try.
Fritz Lee came off for Sam Cane and Agustine Pulu made-way for Brendon Leonard - there's something that screams champions when a team can off-load All Blacks from the bench when they are already 20 points ahead.
It would be pushing it to call the Chiefs a well-oiled machine, but they are a machine: they keep coming, refusing to dwell on their errors or deviate from what they were sent out to do. They took the Blues on up front, squeezed them in the scrum, challenged them in the air and kept the tempo high.
It was all about applying pressure across the park - force the younger, less experienced side to question themselves, which is pretty much what happened. The Blues couldn't settle, couldn't find any rhythm and started to doubt their skills and game-plan when they were confronted with a solid black line that refused to yield until George Moala was able to score his consolation try in the closing minutes.
Frustration became the Blues biggest enemy - their basic skills wilted when holes didn't open up.
To their credit, the Blues hung on for as long as they could, scrapped for the inches, threw bodies about to stem the flow of Chiefs' attacks and nudged into penalty territory to kick themselves a lifeline.
It wasn't a sustainable platform, however. The Chiefs were always at the door, threatening to bang it down. There would have been some bewilderment and no little angst on their part that they weren't more comfortably ahead by half-time.. No question - they had their chances.
Cutting the Blues open wasn't an issue. There were several stunning clean breaks in the first half - Richard Kahui and Aaron Cruden being the architects of most. The latter spent much of the game on attack at fullback, his acceleration, vision and step were that bit more effective operating out there.
As for Kahui, the length and breadth of the country, New Zealanders must be wondering how it is this bloke managed to sneak his deal to Japan under the radar.
He's come back from his injury-enforced break bigger, faster and stronger. Chris Noakes felt the full brunt of Kahui early in the second half - the Blues first-five being splatted like unfortunate road kill. Kahui was in that kind of mood, he's in that kind of form in just his second game back. It was his chargedown that led to the second and clinching try for the Chiefs and his celebration under the posts said it all: after almost a year on the sidelines, Kahui is back.
The Blues are desperately hoping they will be able to sat the same thing. They have a bit of work to do, though.
Their scrum just about managed to put a brave face on and wobble through. But it was tense whether they would actually get the ball back if they put it in.
It's an impossible business trying to build momentum when the set-piece is unravelling, discarding pieces as it retreats. The Blues desperately missed Charlie Faumuina and Keven Mealamu.
If only Angus Ta'avao could scrummage with the same venom with which he tackles.
Ta'avao produced one of the bigger collective draws of breath when he ploughed into Lelia Masaga in the opening exchanges. Masaga either didn't see him, or just didn't believe the big man was any kind of threat because the Chiefs wing was at full tilt, seemingly oblivious to the threat that lay ahead.
It was a thunderous tackle and one set the tone - served as an immediate reminder that this was a local derby and had no obligation to be pretty or expansive: only brutal and heartfelt.
The intensity, if nothing else, will be something from which the Blues can learn.
Chiefs 23 (B. Tameifuna, R. Kahui tries; G. Anscombe 3 pens, 2 cons)
Blues 16 (G. Moala try; C. Noakes 3 pens; B. Kerr con)