The All Whites will fly 30,000km in six days in September to prepare for their World Cup play-off in November.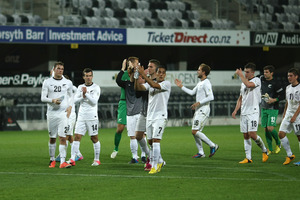 The All Whites are planning a 30,000km full dress rehearsal for their next World Cup qualifying assignment - with a $12 million carrot as the prize.
Having edged past New Caledonia in Dunedin on Friday to top the Oceania standings, their next task could be a pressure-filled, taxing travel schedule to play in Central America and then New Zealand within six days.
The aim is to ready them for the pressure-filled, taxing travel schedule they will face playing a Concacaf (North and Central America) country for a place at the 2014 World Cup finals in Brazil.
To prepare in the best possible way, New Zealand Football is considering a plan to recreate that experience, probably in the September 6-10 window. This would involve players assembling in Central America for a game against the likes of El Salvador or Guatemala and then flying back for a second game on New Zealand soil within a few days, most likely against an Asian team.
That would enable New Zealand Football to test all aspects of the procedure and give players a taste of what they could expect in November. It would also allow home fans a final chance to see the team.
However, the plan will require the buy-in of the playing group, as it would mean that the European-based players would effectively fly around the world twice by the time they returned to their clubs. Even flying between Auckland and Central America, through the US, is a return trip of nearly 30,000km, no easy task when sandwiched between two important games.
A similar schedule in 2011, where they faced Mexico in Denver (losing 3-0) before flying to Adelaide for a game against Australia five days later (losing 3-0), sparked some criticism from players over the physical toll. Travel over such long distances can have well-known effects on players, ranging from fatigue through to cramping and reductions in energy, alertness and response to pressure situations.
This time, it may be more palatable, given the end goal in sight. Apart from the obvious prestige and opportunity, qualification for Brazil would be worth at least $12 million to NZF in prize money and other benefits.
However, the task in November will be one of the more arduous in the recent history of New Zealand sports teams. The Concacaf teams last month started a tough, even, six-sided competition known as 'the Hex' (short for hexagonal), involving Mexico (ranked 15th in the world), the US (33), Panama (41), Honduras (49), Costa Rica (53) and Jamaica (54). New Zealand are ranked 88th.
The US and Mexico are hot favourites to win two of the three automatic qualifying spots, with the fourth placegetter in the Hex to play the All Whites.
Honduras lead after two of the 10 rounds, having beaten the US 2-1 last month and scoring twice in the last 13 minutes to draw 2-2 with Mexico yesterday. The US are second after their 1-0 win over Costa Rica yesterday, while Panama drew 1-1 in Jamaica.
There is another round of Concacaf qualifiers on Wednesday, then three more rounds in June and two each in September and October, giving an ideal lead-in to the November play-offs.
In New Zealand's 2009 qualifying journey, there was over a month between the first leg in Bahrain and the unforgettable second match in Wellington. This time, there will be just six days.
The All Whites will play the first game in Central America or the Caribbean on November 14. They will then have to make the journey back to New Zealand, via the US, losing a day on the way as they cross the international date line, allowing a few days to recover before the second leg on November 20.
Making things even tougher is the fact that New Zealand's shock loss to New Caledonia last year means they have lost their Confederations Cup spot. That means they could enter their World Cup play-off with as few as three warm-up matches against the likes of El Salvador or Guatemala and two other games, most likely against Asian opposition.
In comparison, the All Whites of 2009 had nine matches in total, including their Confederations Cup campaign, which served them well in their build-up to the 2010 World Cup finals in South Africa.
NZF is also planning to consult their Australian counterparts, as the Socceroos negotiated similarly tough hurdles in 2005, facing Uruguay in Montevideo for the first leg before the return match in Melbourne just four days later.
The Socceroos flew home on the night of the match on a specially-chartered Qantas aircraft, using special compression gear to avoid cramp and other problems during the long flight immediately after the game.