Clarke quacks in his moment to shine, writes Chris McGrath.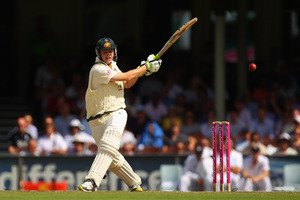 So, come on then, who came up with that plan? Promote the captain, get him stumped first ball.
If that's the result of doing your homework, best play hooky with Shane Watson and Co.
Some people would look at 1595 test runs in 2012 at an average of 106 - ahead of England's Alastair Cook with 1249 runs at 48 - as evidence that Michael Clarke had responded to the challenges of captaincy by crossing the threshold of greatness. Others, plainly, are not so easily fooled.
Poor old Pup. Promoting himself to No 3 in Mohali yesterday, he could hardly have hoped for a better platform. The openers had finally contrived a decent start, eking out 139 runs from 47 overs. Here was the moment to restore due drama to the arrival of Australia's top gun at the fall of the first wicket.
Since Ricky Ponting began to fade, the various incumbents at No 3 had exuded all the stability of a blancmange floating across the Bay of Biscay.
Over the past three years, their collective average is 27. Things reached a wretched nadir when Shaun Marsh set a clip of 2.83 through a home series against India. In his first four innings of the present tour, Phillip Hughes had scraped together 25 agonised runs.
Now here was Clarke, ready to restore not only dignity to this cornerstone role, but also his authority as captain. With the tour in chaos, his vice-captain back home and three others cooling their heels, this was a momentous crossroads. Those balletic feet duly skipped out to meet his first ball, floated up by Jadeja, seeking instant control. A split second later, Clarke heard the sound that stirs dread in a batsman, the wooden knell of a stumping.
If this is the sort of masterstroke volunteered by those squad members who dutifully completed their homework, they'll end up causing far more damage than the suspended refuseniks.
Clarke has long been resented for metrosexual sins of omission - routinely depicted as some effete, vain spectre haunting a noble tradition of Blokery; an affront to the captaincy legacies of Ponting, Waugh and Border.
Coach Mickey Arthur is now reviled for old school inflexibility and insensitivity; his request for individual feedback ridiculed as form-filling - another fig leaf, along with all the jargon and data, to help modern coaches conceal their inadequacies. It remains to be seen whether Arthur is the right man for the job.
Clarke's was one of three ducks on the second day, with Australia on 273 for seven at the end of play, with Hughes - reprieved because of Khawaja's suspension - groping miserably for two runs off 31 balls.
Yesterday, Steve Smith, resuming on 58 not out, made it to 92 before being dismissed.
However, the premier hand in the innings was played by fast bowler Mitchell Starc, who made an excellent 99, putting on another 50 runs with Nathan Lyon before nervously snicking out with a run to go to score a highly unusual century - only four Australians have ever made a test hundred batting below eight.
Australia were 408 all out and late last night, the Indian openers were 53 without loss.
- The Independent