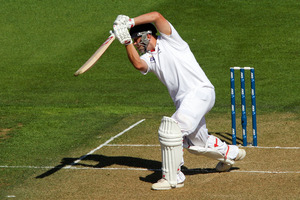 Jonathan Trott didn't want to miss out on the party two weeks in a row.
The English No3 felt he blew a chance to make a century in the opening test match of the series against New Zealand on a flat University Oval wicket in Dunedin last week and decided he wouldn't be denied again.
He carved his way to a score of 121 not out on day one of the second match at the equally flat Basin Reserve in Wellington yesterday as another difficult set of bowling conditions proved generous to the batsmen.
"I felt pretty good. I thought my feet were moving all right and it's nice to get some runs after Dunedin, where I should have maybe got a few more but that's cricket," Trott said.
Scores of 45 and 52 in Dunedin were hardly substandard but Trott is a player who demands the best of himself and looks to set up camp for a long stay at the crease every time he comes out to bat.
He passed three figures for the ninth time in tests with a thunderous pull shot from the bowling of Neil Wagner and looks set to push on to a monster individual score today.
"As a batsman you've never scored enough so it's important that you never think you've done the job and hand it over to someone else," Trott said. "It's always nice to be in a bit of form and get some runs and contribute to the team. I'm very happy to be able to do that and I've worked really hard for it."
Considering England were likely to also bowl first had they won the toss yesterday, Trott must be thankful his skipper Alastair Cook lost the coin flip as the visitors were put in to bat.
Cook couldn't take advantage of the conditions as he was dismissed for 17 during the first session from the bowling of Neil Wagner, but from there Trott combined with Nick Compton as the pair added 210 for the second wicket. Compton's neat 100 was a resolute knock and while he and Trott scored at less than three an over they were nearly impossible to dislodge from the crease.
Eventually, England closed day one on 267-2 with Trott and Kevin Pietersen (18) at the crease and they could set up the test in their favour with a good first session today.
"We don't want to undo [yesterday's] work by being a bit lazy or taking things for granted, looking too far ahead and if we go after a declaration and that sort of stuff," Trott said. "That'll take care of itself if we look after the first hour [today], so that'll be our first mission."APNZ
- APNZ