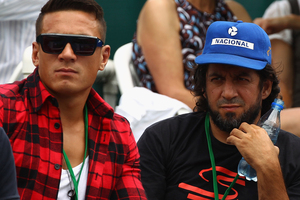 The responsibility for the confusion over Sonny Bill Williams' boxing victory over Francois Botha has been laid at the feet of his manager and fight promoter Khoder Nasser.
Former All Black Williams won the WBA heavyweight fight in Brisbane last month on a points decision after 10 rounds, despite it being advertised as a 12-rounder.
An investigation by New Zealand's TAB, which refunded bets on the pick-the-round-of-victory element of the fight, has found that it was sanctioned by the WBA, but that the Australian National Boxing Federation has concerns over Nasser's failure to alert media outlets of the length of the fight.
A letter from Jim Young, the secretary of the Queensland branch of the Australian National Boxing Federation, to the TAB, which has been seen by APNZ, confirmed the fight was sanctioned by the WBA and that Williams is the WBA International heavyweight champion.
But the letter continues: "The WBA confirms that the promoter Mr Khoder Nasser has done nothing wrong regarding WBA regulations, however, he has let himself down by not advising media outlets, particularly the betting agencies, that it was a 10-round contest as the promoter handles all publicity for this promotion."
Similar "please explain" letters from the TAB to Nasser and the WBA headquarters in Panama have gone unanswered.
TAB spokesman John Mitchell said it was important his organisation undertook an investigation into the fight.
"The TAB, on behalf of its customers, and I guess the sporting public in general, we felt they deserved an answer," he said. Botha's camp claimed they were told of the change to 10 rounds during the fight. However, Botha's promoter Thinus Strydom said he knew beforehand but didn't want to bother his fighter with the detail.
When asked after the weigh in, a day before the fight, whether Botha could go the distance, Williams said: "He could go 12 rounds pretty easily."
Mitchell added: "We were all caught out by what was a very odd change."
- APNZ