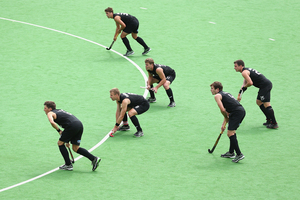 The Black Sticks have fallen to Malaysia 3-2 in the second of two tests ahead of the Sultan Azlan Shah Tournament starting this Saturday.
After trailing 3-0 at halftime, the Black Sticks fought back in the second half, with goals from Andy Hayward and new player Cory Bennett, but it was not enough to give them the win they were after.
"It was disappointing that we did not show the same intensity that got us through the previous night [a 3-2 New Zealand win]. In saying that, the second half was more encouraging and 3-nil is not insurmountable for this team. We will learn valuable lessons from this game, ahead of the Sultan Azlan Shah," said head coach Colin Batch.
There were a few promising moments for the Kiwis in the first half, but a number of errors gifted the home side opportunities to score in the 10th and 20th minute. A field goal just prior to halftime confirmed that it was going to be an uphill battle for the Black Sticks in the second spell.
The Black Sticks stepped up their intensity in the second half, resulting in another Andy Hayward trade mark flick which went high into the net in the 47th minute.
Cory Bennett, playing in his second international test, scored the second goal for New Zealand from a well worked penalty corner variation. With ten minutes left on the clock, the Black Sticks worked hard but were unable to find the equaliser.
The Black Sticks play their first game of the Sultan Azlan Shah Tournament in Ipoh, Malaysia, at 9.05pm (NZ Time) on Saturday against Pakistan. They will also face Malaysia, Korea, India and Australia.
Malaysia 3 (Jalifaiz Helmi , Abdul Jalil Tengku Ahmad Tajudin, Mohd Noor Nabil Fiqri) New Zealand 2 (Andy Hayward, Cory Bennett). HT: 3-0 Malaysia