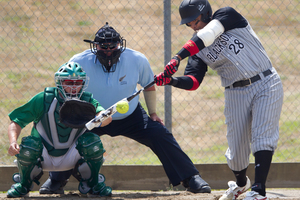 New Zealand 7
Japan 2
The Black Sox batters carried their side to a 7-2 win over Japan in Albany today (Sun), continuing New Zealand's perfect start to the Softball World Championships.
After the hosts' offence had struggled to break the shackles in shut-out victories against Mexico and Colombia, some power hitting ensured a stellar outing from relief pitcher Jeremy Manley was enough to clinch a third straight victory at Rosedale Park.
Nathan Nukunuku - a late call-up to the squad after initially being excluded - crushed a two-run home run, while veteran Thomas Makea also drove in a pair of runs as part of a five-run second inning. Brad Rona provided the other telling contribution with the bat, hitting a two-run homer in the fifth to all but seal the game.
Nukunuku, who has played in Japan in recent years, said he was simply trying to make good contact and the end result was pleasing considering his omission.
"It's just good being back in here, being able to run out there every game and lead the team off. It's the start of a good story - hopefully we can finish it off well.''
The second baseman's blast helped New Zealand overcome a rocky outing from starting pitcher Nik Hayes to pass the first true test of their title credentials.
Hayes, a world championship rookie, earned the start after an impressive no-hit relief performance against Mexico, but he was pulled in the second inning today after struggling with command.
"It's not common,'' coach Eddie Kohlhase said of the quick hook. "Generally you try to let a guy work through that, but we are in a world championship and it has been our strategy to ensure that we don't muck around and we do what we need to do.''
Heinie Shannon, who replaced Hayes on the hill, recorded only two outs before being forced from the game through cramp, with Manley eventually shutting down the Japanese to stake his claim as the first-choice starter.
The US-based right-hander tossed 4.2 shut-out innings, allowing just one hit and showing why he is considered the big hope of the pitching staff.
Overall, Kohlhase was satisfied with the performance of the five-time champions, who are seeking to win back the title lost to Australia four years ago, but he warned his side would face a ``heavyweight bout'' against traditional rivals Canada tomorrow night.
"Japan was going to be a step up and the team responded quite well. There's still a lot of work to do ... but to score a bunch of runs against a quality side was pretty pleasing.
"In any world championship, Canada-New Zealand is always pretty tense and pretty anxious. I've seen a bit of them the last couple of years - good pitching, strong hitting - and I think we have to pick it up a couple of notches.''
- APNZ