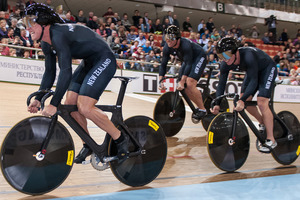 The success of the BikeNZ team at the world championships in Belarus last week has created further financial challenges for the sport's administrators.
The team, including new omnium world champion Aaron Gate, silver medallist Simon van Velthooven and the silver medal-winning men's sprint team of Sam Webster, Ethan Mitchell and Eddie Dawkins, arrived back in New Zealand this afternoon after one a hugely successful world championship campaign.
Budgetry constraints meant BikeNZ could only afford to send a very small team to Belarus, but the five-strong group still managed to make a big imprint on the competition, finishing sixth on the medal table.
"Considering the teams in front of us had men and women competing, to get where we did on the medal table was a pretty big deal for us," said sprint coach Justin Grace.
Given the young team were selected with an eye to towards the 2016 Olympics in Rio de Janeiro their results in Belarus are all the more impressive.
BikeNZ chief executive Kieran Turner said with limited funding available the organisation is having to look prioritising the various branches of their national programmes and weigh up the value of sending riders away for one-off campaigns or basing them overseas for training blocks.
"Certainly there are some challenges at the moment because we've had a lot of success, but we don't have a whole lot more money. We're having to prioritise quite a lot and at the moment we're looking for more commercial partners as well to try and help that," said Turner.
"We've got riders that are top 10 in the world at the moment that we're not really focusing on because there are better riders. It's a wonderful situation to have on one hand, but very challenging on the other."
Gate was undoubtedly the star performer in Belarus, picking up gold in his first omnium at international level. The 22-year-old won the gruelling six-discipline event with a dominant display on the second day, winning two of the three events and beating his two key rivals - world champion Glenn O'Shea of Australia and Denmark's Lasse Norman Hansen - in the other.
"I was a little it unsure as to how it was going to go so to come away with a gold medal was a little bit mind-boggling," said Gate.
"It's easy to say you're going into an event to win, but it's a case of believing that and I didn't 100 per cent believe it. I thought I'd at least be capable of a medal but when it got to the second day and I was sitting in third place the mindset just changed to really believing I could get there."
Gate will have a couple of days rest at home in Auckland, before switching his focus to the upcoming road season in Europe. The BikeNZ endurance team will base themselves in Belgium from the end of March.
"It's a case of re-building the kilometres and basework now to get back on top of being able to win some races on the road later in the season. I've only got a few weeks - panic training I think it's called," said Gate.