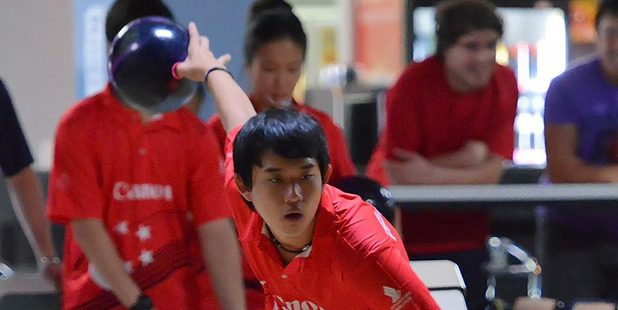 Australia's Sam Cooley came out of the blocks firing with a 247 game on the opening day of the Commonwealth tenpin bowling championships in Auckland.
Malaysia's Isaac Paul was not far behind with a score of 237 and Jaris Goh from Singapore had 236.
Goh responded with a 256 second game to briefly take the lead, but lines of 267, 277, 224 and 234 clinched the gold medal for Cooley who finished with a stunning 240.66 average and 1444 series.
Cooley's credentials, including his multi-medal performance at world youth championships and the 2010 Australian Masters title, have placed the 21-year-old among the most highly rated players expecting further success at this week's championship.
Goh finished strongly in games 5 and 6 to overtake Paul for the silver, posting a 1328 series. England's Christopher Oates almost upset the Malaysian's claim on a medal but Paul's 1247 secured bronze.
England's Kirsten Penny took gold with a 216.83 average in the women's singles. Malaysia's Siti Shazwani won silver and there was a tie for third between Malta's Sue Abela and England's Lisa John. Sarah Young was top placed New Zealander, finishing sixth.