Mike Allsop raises $25,000 for KidsCan running in seven different countries.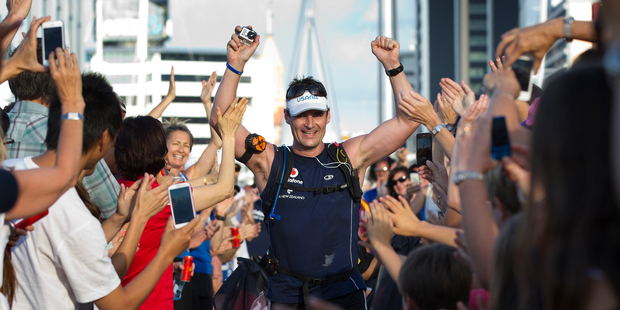 Running a marathon is already a great feat. But imagine doing seven marathons in seven different countries, in seven days.
That's exactly what Auckland man Mike Allsop did.
The 43-year-old, of Mt Eden, has been running around the world this past week. He says he did so in order to "challenge myself" but also to raise funds for children's charity KidsCan.
"I climbed Mt Everest and that was a challenge that was amazing. I've got three young kids and I wanted to do something less dangerous, but still inspiring and hard. I thought this would do it," he said.
The adventure started in the Falkland Islands, then Santiago, Los Angeles, London, Casablanca, Hong Kong and finally, Auckland.
Mr Allsop touched down yesterday afternoon and ran his last marathon straight off the plane.
Speaking to the Herald last night, he acknowledged there were a few close calls and hardships he had to endure, including a lack of sleep and almost missing a flight.
"Yeah, there was really no sleep ... It was really tough in Casablanca because I didn't sleep at all because I had to run the marathon.
"I only just managed to get on a plane in Los Angeles - it was six minutes before it left, heading to London. I arrived in Los Angeles at 7.20am, did the marathon and then got back to the airport at 4pm. I just made it.
"I didn't cry, but you do get emotional. But to be honest, I just channelled that into motivation and focus."
Mr Allsop said the adventure had been an eye-opener.
"I learned just how strong you can be. If you focus on running 10km, then you can run 10km ... I was never a runner before this. But I put my mind to it and it happened.
"Life's too short. You've got to make the most of it."
Mr Allsop has raised just over $25,000 for KidsCan. To donate, go to kidscan.org.nz.
7 Days
Feb 16: Falklands, South America.
Feb 17: Santiago, Chile, South America.
Feb 18: Los Angeles, North America.
Feb 19: London, Europe.
Feb 20: Casablanca, Africa.
Feb 22: Hong Kong, Asia.
Feb 24: Auckland.