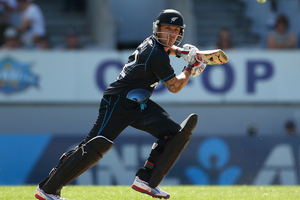 Brendon McCullum's performances against England will go into the tourists' planning file for June's Champions Trophy.
The New Zealand captain maintained a rollicking run of form in the ODIs at Eden Park, providing the only relief as England sealed the series 2-1 with a five-wicket win.
McCullum's 79 off 68 balls followed innings of 69 not out off 61 and a whirlwind 74 off 36 in Napier.
England's limited-overs coach, former spinner Ashley Giles, acknowledged McCullum had given him food for thought.
"If you're going to win big tournaments, you're going to come up against players who change games, and McCullum is one of those players.
"So you need to combat it. You need good plans but need to execute those precisely.
"The innings he played the other day [in Napier] was brilliant."
In turn, New Zealand now have a good idea what they're up against when the test series starts in Dunedin next week.
Add in controversial matchwinner Kevin Pietersen and combative wicketkeeper Matt Prior - and noting the gulf between No2 and No8 in world rankings in the test format - McCullum's men are up against it.
From the way new ball men Steven Finn and Jimmy Anderson put New Zealand through the wringer at Eden Park early on - from 18 for three after 10 overs, New Zealand were always battling - to the sense captain Alastair Cook and his batting chums are finding their range, England are starting to put a squeeze on their hosts.
And yet, there was also the disappointment that New Zealand, following their weak effort in the T20 decider of the ANZ international series in Wellington, had again squandered a chance for a series win.
Losing the toss was crucial, and the inability of the top order to make any progress against admittedly top-class, hostile seam bowling, decided the game.
A poor piece of running cost Grant Elliott his wicket in a mix-up with Ross Taylor as they were settling in, and a tight third umpire's call accounted for Taylor, caught behind.
But those moments alone didn't cost New Zealand the game. McCullum, battling an abdominal strain for much of his innings, blazed, but it was never going to be enough.
"It's a huge blow," coach Mike Hesson said.
Too right, because victory would have given New Zealand something to cling to going into the tests, a dose of self-belief.
With England's depth and quality, New Zealand could have done with every bit of help.