Wellington's playoff hopes hang on three must-win home games, starting with Adelaide United tomorrow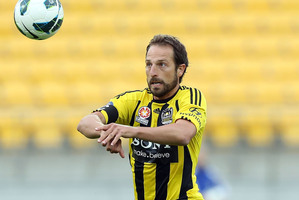 Toss out your calculator if you're a Wellington Phoenix fan.
Don't even bother trying to work out all the playoff permutations because it has got to the point where it's pretty simple: the Phoenix have to win.
If the struggling franchise want to qualify for the uber-generous finals series that the A-League offers up, then the next eight days will decide their fate.
They have three home games during the next week and a bit and if they lose one their season is all but cooked - and frankly, so it should be.
The Wellingtonians start their busy stretch with an outing against Adelaide United at Westpac Stadium tomorrow - a venue where the South Australians haven't played since 2009 or won since 2007.
The Phoenix follow that up with a midweek showdown at the Cake Tin with the Newcastle Jets on Wednesday before they host the eighth-placed Melbourne Heart in Dunedin next weekend.
Wellington trail Newcastle, who occupy sixth place on the A-League ladder, by six points and Phoenix skipper Andrew Durante said it was about time the team showed some fight, starting against Adelaide tomorrow.
"I think the players realise as a group it's almost the do or die stage," he said.
It almost doesn't seem fair that Wellington can make the top six given the season they've had, a sentiment that wasn't lost on Durante.
"It's kind of funny isn't it that we've still got a chance to be in the playoffs considering how poor we've been at times this season," he said.
"But that's the way the league's set up, six-team finals in a 10-team comp and the finals system's even better this year. It gives the lower-ranked team probably even more of a chance to take out the trophy so I guess that's what we hang on that there's always a chance."
Aside from the pressure of trying to salvage something from their season, certain Phoenix players are also playing for their future at the club with a host of squad members off contract at season's end.
"All the players that are off contract really want to be here, which is a good thing and I guess they are playing for their futures," Durante said. "A lot of them have familiesand wives and stuff and it's a tough time."
In team news, Phoenix coach Ricki Herbert is likely to be without midfielder Isaka Cernak for tomorrow's game against Adelaide because of a hip flexor injury.
In his typically evasive fashion surrounding player selection, Herbert wouldn't indicate the make-up of the side if Cernak was to be scratched.
Leading goal-scorer Jeremy Brockie returns to the fold for the Phoenix after missing last weekend's 2-0 loss to the Brisbane Roar because of suspension and would be a logical replacement for Cernak, although that could create a reshuffle of the midfield and strikers.
Goalkeeper Mark Paston didn't train yesterday because of flu but was expected to front up tomorrow.
Phoenix v Adelaide
Westpac Stadium, 4.30pm tomorrow
APNZ
- APNZ