Cameron Brown has won Ironman NZ 10 times ...but it's still tough at the top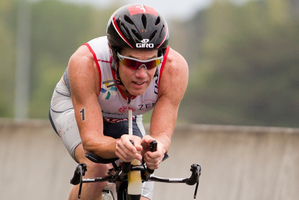 This may be Cameron Brown's 15th year in Ironman New Zealand, but the veteran knows experience is no substitute for preparation.
A key for the Ironman legend is ensuring that nothing is left to chance.
This year Brown will be chasing his 11th Kellogg's Nutri-Grain title after making the history books in 2011, when he became the first person to win the same Ironman event 10 times. At 40, he is nearing the end of his career but his drive and passion for the sport continue to motivate him.
"I love Ironman," said Brown. "I'm still passionate about it and you have to be, otherwise it's too hard to get out and train 35 to 40 hours a week. My passion and desire to win still drives me daily and it's my job at the moment so it's important to do well and put food on the table for the family."
It's obvious that family is important to Brown.
He juggles a professional sporting career with being a dad to his two sons Josh and Braedon.
His pride in his children is evident when he discusses their sporting commitments and goals.
"It's hard to find a balance, but I try to finish work every day by 3pm and then it's time for the kids' sports. They are into soccer, rugby, swimming and BMX so it's quite demanding. Once my training is done for the day I get stuck in with them and doing all their stuff that they need to do. They love their BMX and the world champs are in Auckland this year so they're training hard for that."
There is no doubt his supportive family will be cheering from the sidelines on race day as he takes on Olympic silver medallist and Ironman rookie Bevan Docherty and former World 70.3 champion Terenzo Bozzone.
"It's going to be a different race with Terenzo and Bevan," Brown said.
"Bevan is an unknown at this stage, with it being his first Ironman. He always trains hard, so I know that he would have put in the training. Those two will be up there, that's for sure."
Bozzone, a four-time junior world champion, has finished second to Brown three times.
He has been seeded No 2 and after the accident that cost him a start in last month's Ironman 70.3 in Auckland, the Aucklander has a different approach to Taupo.
"The recovery from the crash took a little longer than I was expecting. I've taken the time to recover and I'm probably going into Taupo slightly fresher than I have in the past and hopefully that will pay dividends come the second half of the run.
"I think I have what it takes now. Ironman is all about experience and how you handle those bad patches and everybody is going to go through those bad patches. Whoever handles those bad patches the best is going to be victorious on the day."
Docherty hopes the advantage of racing in his hometown will help him in his debut.
"I always wanted Taupo to be my first Ironman, so it will be very special. I'm excited; I think it's going to be an awesome day and I have nothing to lose so I'm not nervous," he said.
"To be able to come home and start this part of my career in front of my family is fantastic.
"Ironman has always been on my bucket list. It's the cornerstone of our sport and really where it all started. It will be a learning curve. I've always been a racer so I need to learn about managing the speed and the intensity especially in training. But it is something I am looking forward to."
Brown's wealth of experience in Taupo gives him confidence, but he knows he must stay focused on the job if he wants to win another title.
"I know Taupo. This is my 15th year of racing there. I have experience on the course so I know what to eat and when to drink and that is an advantage over someone who's coming into it for the first time. But things can still go wrong. Even after a long time in the sport you have to make sure that everything is perfectly prepared for race week and race day."
His training got off to a slower start than last year, but he is happy with his form and believes everything is on track for him.
"I always go into it knowing I need to be as fit as I can to win and this year's no different. I know that if I'm in great form I'll race well, and with three weeks to go I think that form is starting to show."
Like most professional athletes Brown has mental strategies to help him get through the gruelling event - an event that he confesses still scares him, even after competing in more than 40 Ironman races.
"I break down the distances. It's pretty daunting when you go into an Ironman. I try to make the distances smaller, which makes it easier. It's a scary concept, how far you have to swim, bike and run. But once the swim is done I focus on the bike course, where 2x90km sounds better than 180km, and then on the run 4x10km and a 2km isn't as daunting as 42km."
So Ironman participants can rest assured that even professional, experienced, world record-breaking, elite athletes find each Ironman a challenge.
A challenge that Brown always rates as something special.
"It's an amazingly tough day and that's why people come every year - to try to do something not everyone can do in their lives."
Cameron Brown
Age: 40
Status: Married with two sons
Ironman NZ wins: 2001, 02, 03, 04, 05, 07, 08, 09, 10, 11
Hawaii: 2nd 2001, 3rd 2002, 3rd 2003, 2nd 2005
Ironman podiums: 27