New Zealand's win in the opening ODI against England comes at a high cost.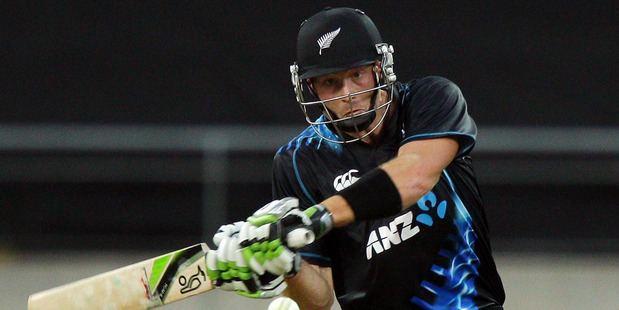 New Zealand cricket teams have always prided themselves on their fighting qualities.
At times their has been a shortage of true class in their teams. But grit and resolve have been on hand to make New Zealand's reputation as a unit who will make opponents work for their success.
That was one of the most pleasing parts of New Zealand's three-wicket win over England at Hamilton's Seddon Park last night, for captain Brendon McCullum.
For the second time in six days on the ground, McCullum turned in a match-winning performance. His 74 off 38 balls in the second T20 set up a convincing win last Tuesday.
He followed that with an unbeaten 69 in 61 balls last night, getting New Zealand across the line with seven balls to spare.
Scoreboard
As it happened: 1st ODI - NZ v England
He had injured opener Martin Guptill for company at the end, Guptill hitting the winning run to reach 259 for seven, responding to England's 258.
Guptill, having retired hurt on three off 17 balls, belted 24 off 10 balls with a strained hamstring, coming in with 41 needed off 25 balls and three wickets in hand.
It was a courageous innings on one leg and symptomatic of what McCullum wants to see from his team.
''It's pretty satisfying," McCullum said.
''There were many times throughout the day when we were defending, behind the 8 ball. But through the bowling, fielding and with the bat we showed some fighting characteristics. I talk about it a lot and it's an important trait that we keep fighting."
Guptill won't be playing in the second ODI of the ANZ international series at Napier's McLean Park on Wednesday. Neither will fast bowler Mitchell McClenaghan, who is ruled out of the remainder of the England trip after straining a side muscle midway through his 10th and final over yesterday.
McCullum tipped a straight swap, with fellow left armer Trent Boult coming in for McClenaghan in Napier. However he felt for the burly Aucklander, who has had a fine start to his international career this summer characterized by getting early wickets both in South Africa and against England.
''I'm gutted. He has been a revelation for us this year. He's done an amazing job, and allowed us to attack in areas haven't had that luxury."
England were left to rue squandering an opportunity for a seriously large score, after plunging from 190 for three at the 40-over mark.
They lost their last six wickets for 38 in the space of 37 balls, having been well set up through half centuries from Ian Bell, Jonathan Trott and promising 22-year-old Joe Root.
When senior seamer Jimmy Anderson bowled BJ Watling in his opening over, it was his record 529th wicket in all international cricket for England, overtaking Ian Botham.
However Botham didn't have the third form of the game, T20, available to him during his stellar career.
''It's a fantastic stat to have. He thoroughly deserves it," England captain Alastair Cook said.
He suspected England lacked a bit of match hardness yesterday. Cook himself was bowled for four by a fine delivery from McClenaghan on his first trip to the middle on the tour, having sat out the T20 rubber.
Cook felt whichever side had lost a tight contest would have felt disappointed.
''We both got into positions to win that game and needed someone to stand and grab it by the scruff of the neck. Those two guys (McCullum and Guptill) did it."
The other key performers for New Zealand were seamer Kyle Mills, who led the attack impressively, and batsman Kane Williamson, whose neat 74 set up New Zealand for the final push to the line.
Read more:
Southee kept under wraps
Schoolboy shows internationals how to catch