National selectors limit in-form bowler to provincial games in run-up to first test.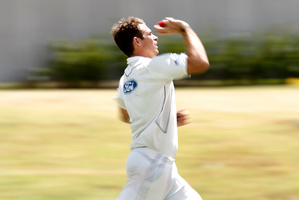 New ball spearhead Tim Southee will stay with Northern Districts rather than have a pre-first test workout against England's bowlers.
The option was to include Southee in the New Zealand XI to play England in the four-day fixture starting at Queenstown on February 27 as he continues his return from tearing ligaments in his left thumb.
Southee had a good game for Northern Districts in their five-wicket win over Wellington in Whangarei yesterday.
He took nine for 149 off 36.2 overs in the match and hit 83 from just 54 balls - including 60 in boundaries - in ND's first innings, which suggests he is able to play his shots with freedom and confidence. Southee will play for ND against Central Districts in Nelson, starting on Wednesday.
The national selectors - coach Mike Hesson and national selection manager Kim Littlejohn - are adhering to the line of thinking that while it's good to give batsmen a look at visiting international bowlers, the reverse does not apply.
Southee, 24, made a spectacular entry to test cricket against England on their last visit to New Zealand five years ago.
He had England four for three on the first morning at Napier's McLean Park en route to five for 55, then clubbed 77 not out off just 40 balls in New Zealand's death throes.
His overall figures of 65 wickets from 21 tests at 35.04 don't particularly stand out, but his last four tests have produced 23 wickets at a far more eyecatching 17.3.
Up against the world No2 test team, New Zealand need to make use of any perceived advantage they can. Much will depend on Southee's penetrative edge.
"We don't want him to play against England before the first test. He's tracking well and we don't want to give them a look at him," Littlejohn said.
New Zealand's 12 for Queenstown will be named tomorrow and Littlejohn confirmed yesterday that it will be more in the nature of a developmental squad, rather than a New Zealand "A" set-up.
Littlejohn said there could be a couple of test batsmen picked for Queenstown, but the bowling group was more likely to be comprised of players pressing towards the national team in the future.
"We're looking at the next crop of young players with potential," he said.
One player who doesn't fall into that category but might well be asked to play in Queenstown is Ross Taylor.
He struggled in the T20 series, falling in the same fashion, caught at deep midwicket, each time.
As the country's premier batsman, Taylor is sure to be in the test team, but a good look at England's bowlers in a less frenetic, more measured environment wouldn't hurt.