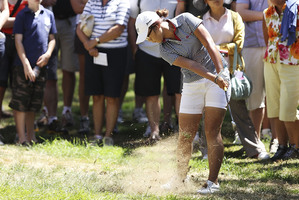 Hands on hips, watching as South Korean Jiyai Shin is cheered, doused with water and hugged, Lydia Ko is already thinking ahead to the Thai Open.
On the elegant Royal Canberra course yesterday she came close to a third professional Open victory, but was outplayed by Shin and nudged from second by world No. 1 Yani Tseng's (Taiwan) steady climb back.
But third is hardly a defeat.
Ko, just 15 with the best part of two years of school ahead of her, has cemented another brick in her growing reputation as a giant-killer. With poise and skill far beyond her years, she is the world's top amateur and an increasingly fearsome presence.
She won the Canadian Open from world No8 Shin, and followed it with the New Zealand Open. Yesterday, she started at level-pegging with Shin and failed to let two ugly first holes - a double bogey on the first and a bogey on the second - rattle her.
As it happened: Ko's final round
Leaderboard
Throughout, she maintained a reserve that was only cracked, briefly, on the 17th hole when she misses a putt and the disappointment shows in a head-down stride.
After the damaging start she pulls back with a birdie on the fourth and fifth holes. She acknowledges the applause with a small wave.
Her focus never falters, even when Shin forges what is clearly a winning lead. Ahead of her, Tseng has been gaining ground and, as Ko plays the 14th hole, overtakes the Kiwi teenager and finishes in second, two strokes ahead.
Facing the media, Ko is as poised as on the course, with a ready laugh and a solid view of where she is.
Yes, she is disappointed: "Like I said, I can't play good every single round.
"Third place is pretty good ... I can't say I'm not pleased."
Fatigue might have played a part, Ko concedes.
But she's flying to Thailand today, and she intends playing more professional tournaments and says she needs to build up to being a pro.
Shin says Ko made her feel old, and that despite her third place the Kiwi is impressive: "She's great."
Shin says Ko asked her how many professional victories she's had.
Shin told her 11, but "you're younger and you have more chances to win".
Ko remains coy about turning professional, and has said she intends completing college.
After Thailand she will be returning to New Zealand for the NZPGA championships: "Then I'm going back to school."
The big money on offer, she told reporters on Saturday, is not the issue - despite foregoing more than $500,000 in prizemoney by remaining an amateur.
Experience, not money, was the key: "I don't really care [about the lost winnings]. Money, really, it doesn't matter to me at this stage."
Read more:
Kiwi caddie expecting big things for Ko
Dana Johannsen on Lydia Ko: A victory for women's sport