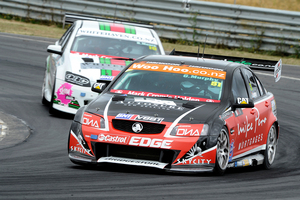 V8 Supercars stalwart Greg Murphy slapped the gauntlet down at the opening round of the V8 SuperTourers, winning all three races at Hampton Downs yesterday.
He didn't have it all his own way, being harried, and led, at times by Ant Pedersen, who finished second twice and sixth in the feature race.
"I'd be pretty annoyed if someone won all three races - except if it was me of course," said Murphy. "The others raced hard and it wasn't easy.
"The racing is only going to get better. I didn't come here thinking three wins would be possible but sometimes things fall your way. I'm not going to get carried away and the boys did an incredible job."
The day got off to a raucous start in race one with six cars out of action before the field had even made turn two because of the red mist descending on Andre Heimgartner. The youngster's over-exuberance caused the demise of Craig Baird and defending V8 SuperTourers champion Scott McLaughlin, to name but two.
"There are some drivers out there that have to pull their heads in," said McLaughlin. "It's the first race of the day, and the first of the season so it's crazy to have so many cars taken out on the first corner."
McLaughlin's car sustained heavy damage and was unable to make the restart, and Baird could manage only four laps. Only 14 cars made the restart, and of those, only 12 were classified as finishers.
On the restart, pole sitter Pedersen held his line but Murphy managed to get past on lap three and started to pull away from the rest of the field to win from Pedersen and Moore.
Race two was a more sedate affair.
Pedersen pulled a nice move on Murphy on lap two to take the lead and pulled away from the rest of the field. With three laps to go Murphy had closed to the boot straps of Pedersen's car and was soon past to win with Moore again in third.
"We were faster than Murph to begin with then my tyres went away and he was a lot better out of the corners than me," said Pedersen.
The usual suspects, Murphy, Pedersen and Moore, launched to lead race three when the lights went out, but this time Shane van Gisbergen was in the mix back in fifth. By half race distance it was patently obvious it was Murphy's weekend as he left the rest of the pack behind. Van Gisbergen came home second with McIntyre in third.
The series now heads off to Ruapuna, near Christchurch, for round two on March 9-10.
V8ST points after round one
Greg Murphy - 763
Ant Pedersen - 566
Richard Moore - 493
Shane van Gisbergen - 466
John McIntyre - 417
Paul Manuell - 386.