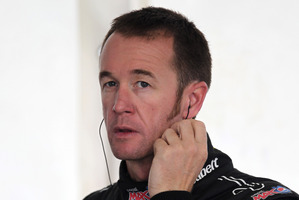 As more court action looms between warring V8 factions, motor racing great Greg Murphy has delivered a stream of fiery criticism of governing body Motor Sport New Zealand. Murphy says MSNZ is trying to destroy V8 racing in this country and that drivers, teams and fans will walk away if the sport returns "to the Dark Ages".
Murphy is an investor and a driver in the V8 SuperTourers organisation which has grown quickly to become the premier V8/touring car series after breaking away from the old MSNZ-run NZ V8 Championships. But the battle for control continues - with more court action possible even after the last legal stoush was ended and the two V8 competitions seemed to be, if not merging, at least cooperating.
Murphy was angry after MSNZ blocked a move by V8 Super Tourers to race on the card of the V8 SuperCars next epic at Pukekohe in April. In addition, other V8 SuperTourer sources say court action is an option after they claimed MSNZ re-neged after seeming to agree on a joint V8s meeting in Taupo next month. The Taupo meeting was said to have been a double-headed, joint effort showing V8 fans a common, united front instead of holding separate meetings on the same day at Taupo and Ruapuna.
But MSNZ made no decision on Taupo, letting three weeks slip by until V8 SuperTourers had no option but to honour their commitment to racing at Ruapuna. They then maintain MSNZ declined to sanction the V8ST card at the Ruapuna meeting - meaning the MSNZ-sanctioned V8s event at Taupo on March 9 and 10 would be the only V8 racing in the country on those days.
The Taupo-Ruapuna stand-off has sparked talk of a court injunction (one V8 SuperTourers spokesman called it a "restraint of trade" unlikely to withstand legal scrutiny) while the V8 Supercars issue has set Murphy off.
"It is a pathetic, mind-blowing thing," Murphy said. "It is all about control and I have even had comments relayed to me that certain people in MSNZ have said they are out to destroy V8 SuperTourers.
"They are a governing body. They should be concerned only with governance and helping our sport to grow. Instead, they are all mixed up in the commercial pursuit of promoting a V8s championship for their own reasons - and doing whatever they can to hurt us. It is very disturbing."
The SuperTourers championship, which starts next weekend at Hampton Downs, has 21 cars and has attracted well-known drivers like Murphy and Shane van Gisbergen, as well as Craig Baird, Andy Booth, Angus Fogg, John McIntyre, Steven Richards and Jonny Reid - many of whom have moved over from the old NZV8 championship. MSNZ had set their sights on a championship involving the so-called 'Car Of Tomorrow', the TLX cars, of which only three have been built and are ready to race.
"It's pathetic," said Murphy. "Three cars? V8 SuperTourers have the cars, the drivers, the teams, the TV rights, the fans and all the interest. Surely any governing body would be happy with that and would be seeking to have the sport grow and flourish. But I believe this comes down to power and the fact that certain people in MSNZ don't like certain other people personally.
"It's all about power and control and the fact that certain people can't do what certain people used to be able to do - and they are trying to correct that. V8 SuperTourers have invested $7 million or $8 million into motorsport. MSNZ, in their infinite wisdom, have completely and utterly ignored that investment by all those teams as if it hasn't happened - because it doesn't suit them.
"It's incredibly disturbing and a lot of people within the sport are shaking their heads in disbelief. It's clearly about self-preservation by people who have been involved in the sport for too long and have too much self-interest.
"What they don't understand is that there are a whole lot of competitors, teams and fans who want this [V8 SuperTourers] to happen and that if they [MSNZ] go down this path, the ridiculous thing is that V8 SuperTourers will shut their doors. All those people would walk away."
Murphy said the sport had not grown and flourished because of the previous regime of control. Now, when there was a chance to do so, MSNZ seemed to be trying to retain control at the sport's expense.
"I hope they don't think we are just doing this for our own ends. It's about growing the sport and making it healthy and no one I know wants to go back to the Dark Ages.
"I am not saying this to be a stirrer - I am an investor and someone who gives a shit about the sport. I love the sport, it's been my career and I want to see it benefit and grow. While MSNZ is pulling this stuff, it won't happen. I am speaking out because I want what is a bloody good thing prevented from becoming a disaster."
MSNZ president Shayne Harris said yesterday he did not know of any reasons why the V8 SuperTourers could not race at Ruapuna.
Regarding the V8 Supercars support races, he said: "We are taking those matters to a meeting of the executive next weekend. As far as I am aware, we are doing all the things we said we'd do; I'm not sure why they are getting upset. The calendar was set for the V8 Supercars meeting last May and, to accommodate the V8 SuperTourers, we'd have to move someone else out. We are not sure that's fair."