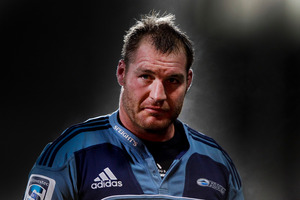 Ali Williams and the Blues captaincy did not seem a natural fit during large chunks of his career.
But today in Whangarei, the 31-year-old lock will lead the squad into battle for the first time as the Blues test themselves against the visiting Waratahs.
For many rugby observers, leadership and Williams are still curious associates when marked against areas like discipline, loyalty, on-field output and the future.
However coach John Kirwan had few choices when he sifted those in his squad capable of taking the group through this campaign.
Perhaps there was a bit of the poacher-turned-gamekeeper theory for Kirwan as he mulled over his decision.
Experience was restricted to men like Keven Mealamu, who is taking an early sabbatical, Williams, Luke Braid and Piri Weepu.
Anthony Boric is not playing yet after his surgery, Charlie Faumuina needs to concentrate on his front row work and Rene Ranger has to up his input to lead the backs anyway.
Kirwan looked at that group, he inquired of others and trusted his gut feel when he settled on the experienced All Black lock. "He's had some interesting experiences in the past but he really cares about this place and I believe he is the right man to lead this team," Kirwan said.
Williams has stacked on a shade over 100 Super rugby games for the Blues and Crusaders, worn the All Black jersey in 77 tests and began his rugby foundation with Ponsonby and Auckland.
He knows his way around the rugby field. There is no question about that - only curiosity about whether his body will cope with the attention - and he also knows how to handle most off-field situations after more than a decade of top rugby.
Williams brings a smile and intensity to his work, he has a tough hide when necessary, a reliable sense of humour and a sports brain which has embraced most situations.
His passion will be matched by the new-look Blues, whose levels of pre-season involvement have claimed the attention of an experienced staff.
An off-season cull and player selection rejig has brought a new vigour to the Blues. They are physically ready to play.
The inquiries remain across a number of other fronts, questions about whether their enthusiasm and athletic gifts will counter their inexperience and how they will cope with tough, sustained exams for five months.