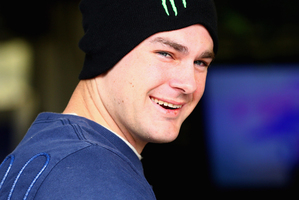 Talk to any athlete and they will say enjoyment is paramount. For Shane Van Gisbergen, that is non-negotiable and was why he walked away from V8 Supercars at the tender age of 23.
It was a decision that shocked many but not those closest to him. He was not enjoying his year with a Stone Brothers Racing team undergoing massive changes and walked away despite having recently signed a new three-year contract.
It was couched as retirement - something he now takes umbrage with - and contributed to the disbelief and incredulity among fans and fellow drivers when only six weeks later he announced he had signed with Tekno Autosports to race a Holden in this year's series. He's always driven a Ford.
Van Gisbergen isn't too worried about the sort of reception he will receive when he returns to the track this month. He doesn't seem to worry about much, except one thing.
"I just want to race," he said, "to enjoy it. I just love driving.
"I never said retirement. That word was put in a few releases. Retirement is final and I never wanted to retire. I'm only 23.
"Just the way it came out last year was not right, but it was what the team wanted. I went along with it at the time because I didn't plan to come back. I didn't have any desire to. Of course, now I'm in a Holden and it's a bit of a change as well. People are probably going to be disappointed or shocked, I don't know. I just tend to stay away from it and get on with it."
The thing he used to appreciate about Stone Brothers was that it was a family operation who just loved to race. All that changed when they were taken over by Erebus Motorsport last year. Tekno echo the Stone Brothers of old. They are another family operation who just love to race and his co-driver Jonathan Webb is also the team owner and son of a billionaire.
Last season Webb was even able to race without any sponsorship and he intends taking some of the pressure off Van Gisbergen, who dislikes all of the fringe activities like media and sponsorship that comes with the job. They will also drive cars built by Triple Eight Race Engineering, which should see the pair near the front of the grid.
"Being a small family business we are quite close and work quite well together," Webb said. "And being an owner and a driver I probably understand more than a lot of the team owners out there. It's a matter of trying to make it work where you can still enjoy it but get the essential parts of the job done, like looking after sponsors but still having enough time to really get your head back in the right space before getting in the race car."
Van Gisbergen has got himself in the right headspace after a stint back home with his parents. He started working for his father, who sells cars, and planned on racing in the New Zealand V8 SuperTourers, drifting and rallying.
He will still do all that and his new deal also allows him to live in New Zealand for six months of the year.
"I will be a lot busier than I have ever been but it will be enjoyable," he said. "It will be a lot more fun but a lot more work, too."
APNZ
- APNZ