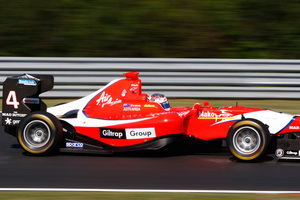 The confirmation that Aucklander Mitch Evans will take a seat in the GP2 championship with Arden International brings him much closer to a possible Formula One drive.
At 18 years old, Evans is one of the youngest in the field and has the least amount of experience at the tier just below F1. However, he already has two international championships under his belt - the Toyota Racing Series in 2010 and 2011 and the GP3 championship in 2012.
"I'm really stoked to get the ultimate thing I was wanting," said Evans. "I'll be on the grid in Malaysia [opening round of the F1 championships] in a GP2 car.
"It was a bit of a challenge for us to come up with the budget but we've got enough to get through most of the season and are confident of getting the rest.
"We had to commit now, and if I get a good start to the season it'll help in getting the rest [money], which we could still get before the season starts. So all good."
At his first attempt on European soil in 2011 with MW Arden, a new team collaboration between Red Bull F1 team principle Christian Horner and Red Bull F1 driver Mark Webber, Evans finished ninth after a great start to the season.
Last year he was again one of the fastest drivers in the category and clinched the title at the last round at Monza.
Evans tested with both Arden and DAMS last October and November and impressed with his professionalism, aptitude and speed being the fastest rookie.
"We have a great relationship with him, and have seen him grow in the last two years in a championship that was created to bring great drivers into GP2," said team boss Julian Rouse.
"We tested Mitch at the Barcelona and Jerez tests at the end of last year and were encouraged by his performance, especially as he was in the top 10 with drivers who have several years' GP2 experience."
It's a bit of a step up machinery-wise for the young fellow, though. His GP3 car was a four-cylinder, albeit turbo charged, 2-litre pushing out about 209kW. He's now got the keys to a 4-litre V8 developing 456kW with over twice as much power, which will have to be treated with finesse and care.
"They are a bit of a handful to drive," Evans said. "More horsepower but similar in weight [to GP2 car] so the power to weight ratio is pretty unreal. A bit of a beast and it's bigger as well, and difficult to drive.
"It's going to take a while to go up against and beat the guys who have been in the championship for a while now. I'll give it my best shot as always and that's all I can do."
Evans leaves for Australia for a fitness training camp with his manager Webber and then it's off to Europe for his first round of official testing with his new team.
One thing is for sure, by driving with Arden, Evans knows he has a car capable of running at the front. Arden finished third in the teams' championship in 2012 and one of their drivers, Luiz Razia, finished second.
- APNZ