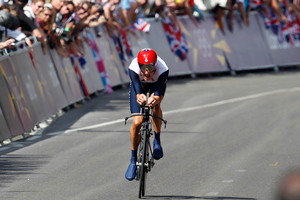 An International Olympic Committee member says cycling could be axed from the Olympic Games if Lance Armstrong proves that the sport's governing body covered up widespread doping.
IOC member Dick Pound, a former head of the World Anti-Doping Agency, told news agency Reuters that the IOC might take drastic action and axe cycling for the next two Olympics if the stripped Tour de France champion could prove the International Cycling Union (UCI) acted improperly.
"We could say, 'look, you've clearly got a problem why don't we give you four years, eight years to sort it out," Pound said.
"And when you think you're ready come on back we'll see whether it would be a good idea to put you back on the program."
Pound said it was clear the IOC needed to take matters into its own hands in the wake of the Lance Armstrong doping scandal.
"The only way it (cycling) is going to clean up is if all these people say 'hey, we're no longer in the Olympics and that's where we want to be so let's earn our way back into it,'" Pound told Reuters.
"The IOC would have to deal with it, the (UCI) is not known for its strong actions to anti-doping.
"It was the same in weightlifting a few years ago, all of a sudden when you get right up against it things go fuzzy and they say, 'well, we can't punish innocent athletes in these sports by dropping the sport from the program.'"
It isn't clear if all cycling events would face the axe from the Olympics or just the road events but all four disciplines (road, track, BMX and mountain biking) are run by the UCI.
New Zealand won three cycling medals at the London Olympics but all came on the velodrome or the BMX track.
New Zealand won two bronze medals on the track, in the men's team pursuit and Simon van Velthooven in the men's keirin, while Linda Villumsen finished fourth in the women's road race.
Sarah Walker also won silver in the women's BMX.
- nzherald.co.nz