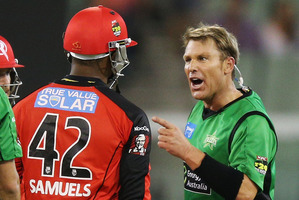 Good old Shane Warne. Just when you think he can't look any more naff, he goes and throws a spectacular tanty during a Big Bash League match.
It's all good publicity, of course, but it lent an air of desperation to both Warnie and the BBL. For a start, few believe Warne when he denies having cosmetic surgery. His waxen features make him look like a character from a Pixar movie. The best he could come up with in terms of denial was support from his sheila, Liz Hurley, most famous for wearing a dress with safety pins and for dropping Hugh Grant like an anvil when he was caught in flagrante delicto (that's an Italian gelato flavour, isn't it?) with a hooker.
Warnie was au naturel, said Liz, and the only explanation she had for his new waxy features was a face cream - that she just happened to be promoting at the time. Pleeeease. If that's what it does to you, I'll have six jars - and send them all to New Zealand Cricket. Actually, no point. They already look like waxworks of themselves.
The Sun made me laugh last year when it ran two photos of Warnie. One was the old chubby-chopped, who-ate-all-the-pies version with the bleached blond hair, the other, the new metrosexual Warnie (though he may well think a metrosexual is someone who does the business on the subway) with the thin face and a rather creepy sheen on his dial. The newspaper printed strips that people could run scissors along and invited them to create their own Warnie, using bits of both faces.
If you don't believe Warne when he says he hasn't had the cosmetic quacks pulling on his face 'til his winkle points at the ceiling, then it's difficult to take him credibly in other matters.
The BBL contretemps with the West Indies' Marlon Samuels was as pathetic as it was distasteful. Samuels started it by pulling on David Hussey's shirt when he was turning for another run - for which Samuels has quite rightly been fined as well. The TV replays then showed Warne throwing the ball at Samuels (throwing is probably too strong a word; it was more like lobbing). The batsman responded by underarming his bat in Warnie's direction. He might even have hit him had the old Warnie had his previous dimensions.
Warne then followed up with an expletive-laden tirade. Yes, yes, yes, it was ugly; it was bad for the game and a bad example to the kids watching. But it was all a bit ... artificial; contrived; two people who should know better slapping each other with their handbags.
The TV clip made it look as if the two incidents closely followed each other. But hours had gone by between Samuels' handling of Hussey and Warne's 'hair-dryer' with Samuels. It did not look like a passionate, spur-of-the-moment eruption.
Warne is no stranger to winding himself up by provoking an incident; some of his best work has come with his blood somewhere near boiling point. But this just looked sad - the writhings and mouthings of a 43-year-old man who still hasn't grown up. Not content with trying to recapture lost years with some sort of fountain of youth thing, he also dug deep into his bag of tricks to recapture his form.
Significantly, he is near the bottom of the BBL bowling stats and, in the same match as the Samuels spat, he was carted about for consecutive sixes by Aaron Finch. It looked even worse as Warnie's mike was on and he told the audience how he was going to get Finch out - only to see the ball disappear over the boundary. It was a far cry even from last year - when he described perfectly how he was going to dismiss New Zealand's Brendon McCullum and then did exactly that. The decision to mike up the players now seems redolent of that same desperation mentioned earlier. It's all a bit, well, tacky.
In the end, La Liz rode into the rescue again, safety pins blazing. The horrid TV people should not have left the mike on, she trilled, so that the audience could hear the beastly things her Warnie was saying.
The problem wasn't with the production crew; selective miking is a bit hard when The World's Greatest Living Cricketer is giving someone a free character reference. It's also a bit much seeking discretion and subtlety when Warnie is obviously marketing the BBL (and himself) with unfettered energy and transparency.
First there was the hardy old saw that he might make a shock re-entry to test cricket. Yawn. His comeback has been awash with mediocrity. According to cricinfo, he is 38th on the "most wickets" stats in the BBL. His batting doesn't enter into it - literally - and his one chance of a catch came when he shelled a fast-moving shot at cover. It's not been a grand return.
All that is left is the blowhard stuff we saw with Samuels. Add to that the fact that he was fined nearly $1000 for doing 165km/h on a 110km/h motorway in Scotland - the court case being heard just days after he fronted a road safety campaign in Australia ahead of the BBL. The authorities admitted rather stiffly that they would not have used Warnie had they known. It was all reminiscent of the the time he fronted a stop-smoking campaign, only to be snapped having a fag.
Some of you may be seeing a pattern here. He may not ever be photographed with Stephen Hawking discussing quantum physics but even Warne must be working out that he is succeeding only in sullying his own on-field legacy.
You'd think the greatest bowler ever - sorry, Murali, but I really think he is that, as he had no question marks over his action - would fade gracefully into retirement when he still has some dignity. It'd be far more preferable than seeing him used or offering himself as some sort of cheap marketing tool; a caricature of himself seeking youth but who has been caught out by the oldest truth of all. No man beats time.