Auckland triathlete keen to show her mettle at home in front of family and friends.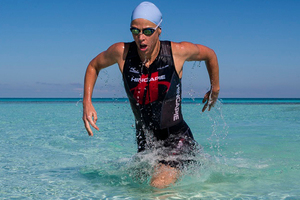 The inaugural Ironman 70.3 Auckland next weekend is a mouth-watering prospect for Auckland triathlete Anna Cleaver.
The 31-year-old corporate go-getter cum professional triathlete is pleased to be breathing after a close shave with death last year.
Cleaver, a former top swimmer and Olympic distance athlete, was enjoying her first serious stint in the rarefied airs of Boulder, Colorado, a noted athlete-friendly city. The Kiwi was 120km into a long ride, on the back of a group hitting 70km/h down a long and steep descent.
A car travelling too fast swerved to just miss Cleaver. However, the trailer on the back swung out of control and collected her side-on. The driver didn't stop.
"It flipped me off the road. On one side was a sheer face and I could have easily rolled over and that would have been it. And on the other side was a really busy road.
I was able to get myself off the road and curl into a ball," Cleaver said. "Honestly, I am so lucky to still be here so I cannot complain."
She was taken to hospital with a broken bone in her hand, cracked vertebrae, head trauma and some severe cuts and bruises.
"I have been left with quite a few scars, the wounds were pretty nasty, down to the bone."
At the time she was sharing a house with fellow New Zealand triathletes Cameron Brown and James Bowstead.
"James found me on the floor of the bathroom because I had passed out three times with concussion and he took me back to hospital."
After time out, Cleaver recovered and got back into training, recently finishing second to former world junior champion Annabel Luxford in the Canberra 70.3.
There was one shining light in the horrific incident. Anna was able to spend more time with her sponsor, Hincapie Sportswear, a burgeoning brand owned by the family of cycling star George Hincapie, based in Greenville, South Carolina.
"I started my relationship with Hincapie Sportswear earlier in 2012. I think they had kept an eye on my results, knew of my corporate background, my potential as an athlete and the fact that I like to work with companies."
Cleaver has the credentials to help, not only as a triathlete but with qualifications and experience in the world of corporate finance.
"They had recently entered the triathlon market. While the crash was unfortunate, it gave me more time to work with their head designer in Boulder. I spent a lot of time helping to develop their tri lines, including giving feedback on cut, style and fabric.
"It is an absolute honour to be sponsored by them. They are an innovative family run company with a great product range. I am grateful to my friends at the company for everything they have helped me with, far beyond the sponsorship - the words of wisdom and encouragement. They treat me like part of the family."
Cleaver has always been known as a superb swimmer, originally competitive in the pool and coached by former Olympic coach Jan Cameron. It saw her often leading races until late in the run, like her second placing to Jo Lawn in the Port of Tauranga Half in 2011.
She has now moved under US-based Carmichael Training Systems with the coach who guided multi-world champion Craig Alexander in his transition to the longer triathlon distances.
"They have me training differently with the strategy of racing a more sustained race, and not just go out all guns blazing and blow up like I have done previously. I think I have got more endurance in me to maintaina good pace and race a bitsmarter."
Cleaver is thrilled to be back on home turf.
"I am pretty positive that my stars are starting to align. After the year that I've had, to be racing in your backyard is special. I am very excited.
"I am born and bred in Auckland. My parents and family are there. I've never raced a triathlon at home in a big event with all of them there so that will be great," she said.
"I want to podium. To be first Kiwi home in Auckland with my friends, colleagues and family around - can't beat that."

Ironman 70.3 Auckland
Asia Pacific Championship
Sunday, January 20.
Starts 6.30am
Transition: Viaduct Events Centre, Halsey St.
Swim: 1.9km Maritime Museum to Viaduct Harbour. Wave start 6.30am to 7.30am.
Bike: 90km - Lap 1 over Auckland Harbour Bridge, turn at Bush Rd, Albany, and return. Laps 2 & 3 along waterfront, turn at St Heliers. First bike approx. 9.10am. Last bike: Noon.
Run: 21.1km - 2 laps along waterfront, turn at Hobson Bay, Tamaki Drive. First male approx. 10.15am. First female approx. 10.45am. Last finisher 3pm.
Competitors: 1100 from 35 countries.
Best parking
Fanshawe St car park - $6 for all-day Sunday parking.
Downtown car park - $7.50 for all-day Sunday parking.Where can I watch?
The best place to see all the action is around the Event Village, Viaduct Events Centre.
Best viewing of swim start: Voyager Maritime Museum from 6.30am-8.30am.
Best viewing of cycle course: St Heliers township from 8.15am-11.30am.
Best viewing of run course: Quay St from 9.15am-2pm.
Best viewing of finish line: Event Village - Grandstand viewing from 10.30am-3pm.