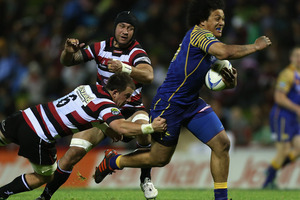 Next year's ITM Cup will be played over an extended competition window of nine weeks with a reduction in mid-week fixtures.
The New Zealand Rugby Union today announced the changes following consultation with provincial unions. The competition will begin on the weekend of August 17 and will run for nine weeks followed by semifinals and finals.
NZRU chief executive Steve Tew said there had been overwhelming support from ITM Cup Unions to start the competition a week earlier to help address concerns about mid-week fixtures. Games were played on every day of the week except Monday.
Matches will no longer be scheduled for Tuesday evenings, and teams will now have only one short turnaround in a season, rather than two.
"There is still a very clear desire for ITM Cup to retain a standalone window in order to preserve the windows currently for both club rugby and Super Rugby,'' Tew said. "Starting a week earlier is a sensible solution that doesn't compromise those dedicated timeframes.
"The competition will still conclude at the end of October and we have retained the playoff structure which has been hugely popular with fans and unions. We saw this year that, heading toward the playoffs, almost every team had something to play for.''
The finalised draw for 2013 is expected to be released in February.
- APNZ