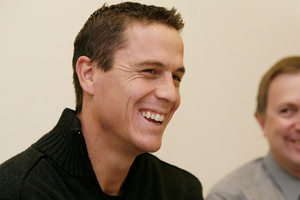 Rob Waddell had never had a job interview before, let alone actually put in a formal application, until he went for the role as Chef de Mission of the New Zealand Olympic Committee.
Like most things the 37-year-old chases, he was successful.
Waddell was today announced to take over from the controversial Dave Currie, who has held the position for the last decade. His first task will be leading the New Zealand team to the 2014 Commonwealth Games in Glasgow, followed by the Olympics in Rio two years later.
It will come as no surprise, however, to learn Waddell is still competing at the top level of sport, and will be a key member of Team New Zealand's quest to regain the America's Cup in San Francisco next year. That is due to finish in September and, depending on how it goes, could spell the end of his career as a top-flight athlete.
Waddell will bring a wealth of experience to the part-time role of Chef de Mission. Not only did he compete at three Olympic Games, winning gold in the single sculls in Sydney in 2000, but he is also a former two-time world rowing champion, three-time winner of the Supreme Halberg Award (1998, 1999, 2000), former lock for the Waikato B rugby side, black belt in judo, vice-chairman (and former chairman) of the Home of Cycling Charitable Trust, co-owner and manager of Riverdale Farm (a 70-acre premier horse agistment property in Cambridge) and has
been a grinder with Team New Zealand since 2001.
Oh, and he also holds an honours degree in management studies (double major in Japanese and marketing) and has three children with former Olympian Sonia Waddell.
It's a job Waddell wanted, however, and he went through the unusual process of applying for the position. He was upfront and highlighted periods in his application when he would need time off next year.
"It probably marks for me a clear definition as the end of my competitive time as an athlete at the Olympics but I feel really happy with that,'' he said. :I feel privileged with what I've been able to do. I'll enjoy this [role] and will be as determined to do it as well as anything else I've done.''
Waddell's appointment was met with approval on Twitter by past and present Olympians. It's understood he won out over Athens gold medallist Hamish Carter, and former Silver Fern Tracey Fear was also in the running until she took up a post with NSW netball.
Waddell will bring his considerable experience and gravitas to the job, and will focus on planning and performance.
"It's definitely a holistic role,'' he said. "There's a wide range of responsibilities that go with it, but the end result is that it all peaks with the triangle at the top and that's our Olympic performance. It's important to make sure our athletes, coaches and managers have the very best environment.
"We're not there for a long time in the athlete's career but it's a very critical time. I just feel through sport that getting something wrong by one per cent can make up for 100 per cent of the result. The attention to detail is critical to me.''
How much attention he will place on haka is yet to be determined, although it's difficult to see Waddell having quite the predilection for peeling off his shirt as often as Currie.
"It's a pity it overshadows what has actually been a pretty slick operation,'' Waddell said. "I know from Beijing just how seamless the whole thing was [under Currie]. Haka has been a big part of the New Zealand Olympic team and other New Zealand sporting teams, too. Where and if and how that fits into formal team protocol we will reassess.''
- APNZ